The market for fitness trackers has seen sales of $36 billion (USD) in 2020 and is only expected to grow. By 2028, forecasts show an increase of more that 300%. We've now seen hundreds of new devices and apps appear on the market in the past 5-10 years. So while you're weighing out your options, here are 5 reasons the AIO Smart Sleeve is the best fitness tracker to get in 2022.
1. The Most Accurate Wearable
In the past 5 years there is a growing concern regarding the accuracy of fitness wearables and trackers among enthusiasts and medical professionals. The two main features that have become staples in wearable technology are calories burned and heart rate (BPM). It just so happens these are the two main features where accuracy is a major question mark.
Once Fitbit started receiving an onslaught of lawsuits, researchers and health professionals began closely examining the effectiveness of these products. In the beginning, no one cared about these inaccuracies but now it's more important than ever. As prices increase, it's only fair that consumers get the best products since they have health data that people rely on. That data needs to be reliable.
Is Your Fitness Tracker Reliable?
One comprehensive study shows that average accuracy of wrist-based wearable falls by 30% when performing physical activity. It was compared to when an individual is at rest. Other research shows that people with darker skin will see significantly more inaccurate readings of BPM. This I because companies rely on cheap optical sensors to gather BPM data. These optical sensors shine a light through the skin to capture heart rate and that same light is easily absorbed by melanin.
Why is The AIO Smart Sleeve Different
The main issue that causes these inaccurate readings is very simple. The optical sensors used in all wrist-based trackers are very sensitive. The sensor needs to remain as close to the skin as possible, at all times in order to maintain accurate BPM reading. This feat is nearly impossible when you consider the construction of fitness bracelets and watches.
Think about how we wear our watches. You live a little bit of room for your wrist to breath and not cut of circulation. That little bit of space is very significant, and it alone can cause tons of reading errors.
Your hands also move around a lot. When that happens, there is tons of movement in the wrist area, and thus the bracelet of watch.
The AIO Smart Sleeve sensor is placed inside a smart compression sleeve on the wrist. This does 2 things; 1) It moves the sensors away from the wrist and improves stability of the optical sensors and 2) the compression from the sleeve actually further pushes down the device into your skin, comfortably, and reduces the movement of the device further.
And for the issue of darker skin tones, the AIO Sleeve also has ECG / EKG capabilities. If you need an accurate heart rate reading, an electrocardiogram is the best way to go. ECG doesn't discriminate, and is 100% accurate because it relies on an actual signal coming from your heart.
Whether the AIO Smart Sleeve is the best fitness tracker in 2022 or not, it certainly is one of the most versatile. 
2. Heart Rate Variability
Heart Rate Variability (or HRV) has gained a ton of momentum in the past several year and is quickly becoming the gold standard in health monitoring among consumers. It is undoubtedly the most versatile biomarker available to a consumer and can be a life saver. HRV is like your body's check engine light.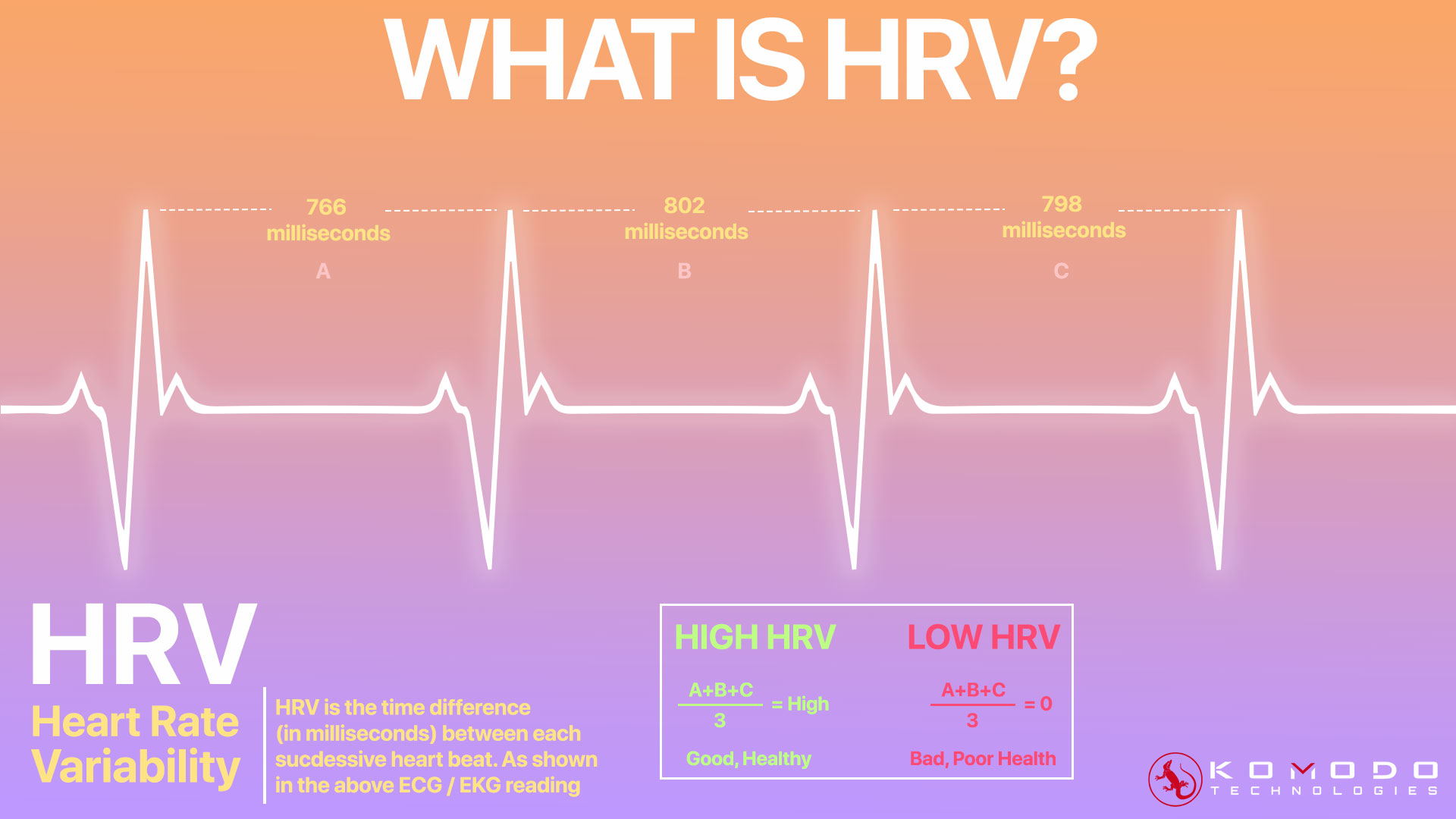 The technical definition of HRV is that it's the time difference between in successive heart beats. Our heart rate is not a metronome, it's supposed to vary beat-to-beat. Typically the higher the variation (variability) the healthier the individual. HRV provides an insight into how effectively your body is fighting every day stressors. From workout (recovery), how your body reacts to the food you eat, medication, work stress and so much more. More on HRV here.
It's All About the Samples!
There aren't many HRV trackers on the market, and none do it the way the AIO Smart Sleeve does. Most companies use the optical sensor to extract heart rate variability data whereas the AIO Sleeve uses ECG. To understand why this is significant: standard optical sensors have a sample rate of 50 samples per second whereas the AIO ECG function has 350 samples per second. The samples are how many times data is fed from the sensor to app and in this case it's 700% higher.
If you know how to use it, HRV is an invaluable tool and it's not that difficult to learn. You can use it as a recovery tool for your workouts or any physical activity for that matter. Check your HRV prior to performing activity and if it's high, you can push yourself harder. If it's lower than usual, maybe take the day off of perform some light intensity activity.
You can do the same thing with your diet, medication and alcohol intake. A low HRV can be an indicator of issues your body is having internally though you might not even feel it. Checking in on your HRV might give you cause to pause on that drive through run or the number of margaritas you drink. It's all about keeping balance and reducing the stress your body goes through and heart rate variability is the best way to do so.
3. Comfort And Breathability
Most compression clothing, leggings, and other athletic wear are made from a blend of polyester, lycra and spandex. The base is usually polyester, which is an extremely heavy, non-breathable material. The AIO Smart Sleeve is a proprietary blend that weighs 50% less typical athletic wear. it's light-weight but maintains the optimal amount of compression to hold the device close to the skin.
Wearing the AIO Smart Sleeve feels like your wearing nothing at all, which is a good thing especially during your workout. You're not going to feel it sliding off or getting in the way. This is especially important when conducting sleep analysis over night.
4. One-Of-A-Kind Health App
The AIO Health App (on Android and IOS) is really where the product really stands out among the competition. There is an Activity Mode to track your workouts or even chores and backyard work. Then there's the Health Mode where you can record an EKG, take a 2 minute HRV test and view you stress level. The home page features a beautiful layout of your daily activity, health stats and even stress level.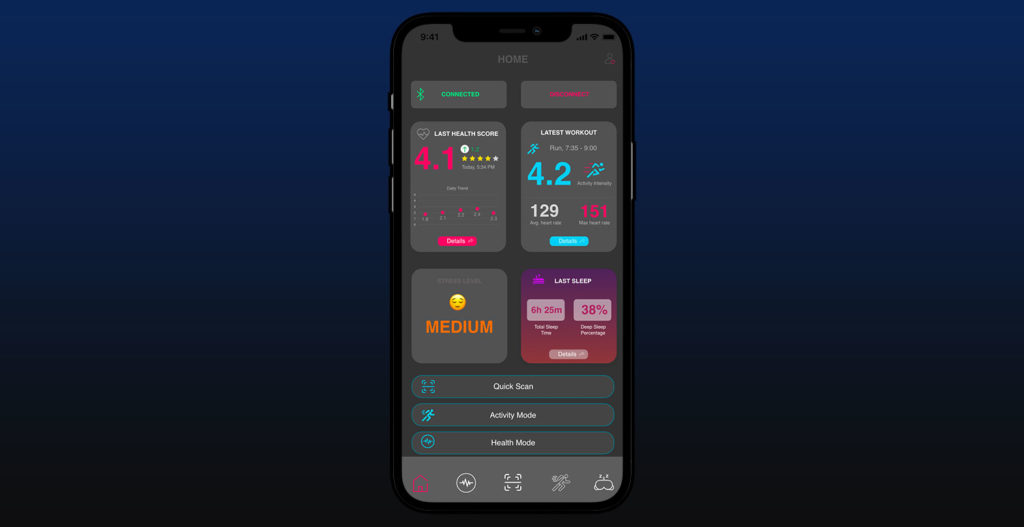 You will see you last heart rate variability score, stress level and how you are trending throughout the day. It really gives you a live look at how your body is operating internally. The amazing amount of detail in the HRV function is unlike something you will see in any other app. When recording HRV, you will select an 'event'. Simply, what is the occasion, i.e. morning, before eating, after eating, before work, etc. The AIO Health App has only a handful of events that fall into the stress level calculation.
Health Score™
Most HRV shows you a score out of 100 or simply a number in milliseconds (which most people don't even know how to interpret). The AIO Health App takes the complex science of heart rate variability and generates a score out of 5 stars. The goal is to make HRV easy to understand and also fun to record and keep track. It's an attempt to humanize complex information. We call it Health Score.
The first screen shows the 'events' you can select from. Once you pick an event, you will wait 2 minutes while the HRV test runs. The second screen (above) shows the result of the HRV (Health Score) test. And the final screen shows your history, broken down into those 'events'.
5. Best Budget Fitness Tracker for 2022
Not only is the AIO Smart Sleeve the best budget fitness tracker in 2022, it's also the best value HRV tracker. Since the latter are usually more expensive nowadays, it helps people who are scared of the price of companies like Whoop and Oura. One has a monthly fee of $30 and the other costs $400. Not very inviting for those thinking about giving HRV a try.
Some AIO Sleeve models right now are only $99 and top out at $159. The goal was simply to make the best HRV and fitness tracker and make it available for people of all types of budgets. There are NO monthly fees on any AIO Smart Sleeve models.