The market for wearable technology and fitness trackers has seen tremendous growth, innovation and creativity. We've seen the best fitness trackers come to life in 2020 and 2021. And doesn't look like things will be slowing down any time soon. With the advent of heart rate variability (HRV), researchers are now trying to utilize it as an analytical tool to detect COVID 19 before symptoms occur.
But before considering what the best fitness tracker in 2020 is, you should understand the basis of what makes a great wearable tech product.
While this might seem obvious, it's crucial that when investing your hard-earned money into a wearable device that you look for these 3 things. The hardware needs to be powerful, packed with the sensors you need and are looking for. Also the weight and durability. Firmware is a bit obscure but this essentially dictates what is communicated from the device to your smartphone and then what your eyeballs see. Companies will use a single sensor to relay hundreds of different data points, given the illusion they are developing tons of new things. And the software is how all of this comes together visually in a way consumers like and can understand.
Our tech team has a combined 5 decades of experience in the field of wearable technology. We've pried open more fitness trackers than you could imagine and have even developed our own (full disclosure). We know everything there is to know about this space and that's why we made this list.
Here we go… the best fitness tracker and wearable tech products
1. WITHINGS
First on the list is the Withings Steel HR. The company is based in France and makes everything from scales to smart watches, and also has a great background story. 8 years after its launch, founder Eric Careel sold the company to Nokia due to pressure from investors who wanted to cash out.This was part of Nokia's plan to grow their health and wearables business, which, of course, ended in failure. A real testament to how out-of-touch these big corporations are in this space.
Later, the opportunity to purchase Withings back from Nokia presented itself, and Careel jumped. And with that, we have a new line of watches, which includes the Withings Steel HR.
DESIGN
The beautiful thing about this watch is that it's a mix between a smart watch and a classic watch. It's a perfect blend of modern and classic. The tiny circular screen is beautifully integrated within the frame and doesn't look out of place at all. (for more, check out this video. start at 21:36)
At a time where lots of smart watches begin to look so similar, Withings is a breath of fresh air in this crowded market. Aside from aesthetic appeal, it has push notifications from your phone and monitors activity and heart rate. It allows all health data to be saved via their IOS and Android apps.
Features
Definitely a shortage of features but it's important to note that a new version is coming soon that will have ECG/EKG capabilities. This is a huge step, just depends what they will do with that biomarker as it's becoming more and more important in the world of health. Though it might not be the best fitness tracker for some, it does the same thing as your Garmins and Fitbits inside an incredibly unique design.
2. AIO SMART SLEEVE by Komodo Technologies
Given that compression clothing has become ubiquitous in the active world, this form factor is comfortable and less obtrusive than some of the smart clothing items on the market. Some people would be reluctant to buy a smart shirt or pants (from companies like Hexoskin) so a compression sleeve is optimal.
BEST IN CLASS TECHNOLOGY
The Komodo team of engineers designed a tiny device that is integrated into the compression sleeve and connects to IOS and Android applications via smartphone. It tracks everything from BPM, steps, activity intensity, sleep, distance SPO2. As well as real-time ECG/EKG with a sample rate of 350 samples per second (one of the best on the market).
However, the best feature is what is slowly becoming the holy grail of health metrics; the gold standard, if you will. And that's heart rate variability (HRV). It's an incredible tool that provides feedback of how you handle physical and/or mental stress throughout the day. Much like a check engine light in a vehicle, HRV is a check engine light for your heart.  
You can monitor everything from how food affects you, to workout recovery, stress/anxiety and much more. The process is very easy: simply hit 'start' on the HRV button, and in 2 minutes you will receive a health score (based on the 5-star system). More on that in this blog post.
There's also a sleep analysis function on the AIO App that shows 5 different sleep stages and movement in more detail than other wearables. The new app update will dive deeper into sleep analytics with a completely redesigned interface that looks great and is easy to understand. Making it a best wearable sleep tracker.
DRAWBACKS
An issue some people might have is the fact that there is no screen on the device and that having one unit (like a smartwatch or a bracelet fitness tracker) is more convenient. So is it the best fitness tracker? That solely depends on you. But given that we spend 30-90 minutes at the gym, spin class, yoga class, etc., The AIO Sleeve is packed with features that you can use when your not exercising.
Third party review of the AIO Smart Sleeve here.
3. XIAOMI MI WATCH
Xiaomi (pronounced SHAO-MEE) is like the Apple of China. Based in Beijing, they manufacture everything from smartphones to scooters and smart home technology. I know some people worry about China products but we can vouch for the hardware they build. It's absolutely top notch. We have been fans since the very early days and initially the software side of their business was subpar. That element has slowly improved and the company has become a big player in the smartphone industry.
Xiaomi Smart Watch
When we talk about their fitness trackers and smart watches, you're definitely getting the bang for your buck. The Xaomi Mi Band series has become a cheap alternative to the Fitbit and Garmin fitness bracelets. And since the technology in these bracelets isn't complex, they did a great job of providing a less expensive band. Proving they can compete and create the best fitness tracker.
When we look at the Mi Watch, it's comparable to the Apple Watch Series 5 (our thoughts on that here). The display's (size) are pretty much identical, the Apple Watch is almost 2 mm thinner but the Mi Watch weighs about 4 grams less. Functionality is pretty much the same, however the Mi Watch doesn't have the ECG/EKG function.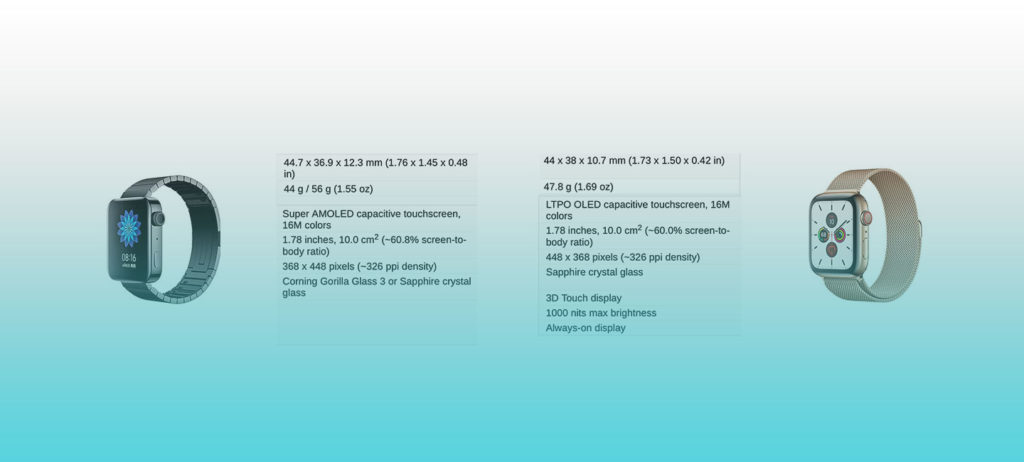 It's no secret that much of Xiaomi's product design is copied companies like Apple and Fitbit, but to their credit, they do an exceptional doing so (and that's not a jab). There were times Apple stole ideas from early Xiaomi phones as well. It's simply how the game is played. That being said, Xiaomi's hardware design is exceptional, from our point of view. Their phones are built very well, and to us, ranks #2 in the world of smartphones behind Apple. 
So don't be worried about the quality of the Mi Watch. The best place to get it is here on GearBest. They are very highly reputable (P.S. we have no association with them).
4. UPMOOD
What started as a family business that developed high-end toys to now developing some very innovative wearable tech products. Speaking with Charles Lo, the company's CEO, he says "Upmood is the first live emotion detection wearable app. It is a lifestyle wearable that is surrounding self-awareness and socializing on the theme of emotions."
Sounds impossible, but it's not. This wearable also uses heart rate variability to determine the different moods you could be in. HRV has been studied for decades and is the absolute strongest indicator of levels of stress and mood. Constant levels of high stress have many horrific long-term effects that include heart problem, diabetes, back problems, cancer and more.
Mindfullness
The idea is if your mindful of your stress, or in this case emotion, throughout the day, you are much better equipped to control that stress. We can vouch for the Upmood wearable as we've tried it ourselves. It's an extremely elegant bracelet that doesn't get in the way. The app interface is pleasant and very easy to use and understand. You can use the link to purchase Upmood.
[Update] Upmood has since released a new version of the band and updated app in 2021.
5. LIEF
We're usually not huge fans of Silicon Valley-based hardware, but we love HRV and the seamless design of the Lief wearable is noteworthy. No chest straps or wires are needed for this unique ECG monitor. It utilizes two reusable electrode patches and a stylish connector to establish a 1-lead ECG reading.
Along with ECG/EKG and HRV monitoring, Lief also can show breath rate, which, when coupled with the prior 2 biomarkers, can create an even better overall picture of your health (and stress levels).
It's always interesting to see how different companies will interpret, and then display heart rate variability. Apple uses milliseconds (which is extremely confusing), and in the other two products in this post we saw moods and a 5-star score. Lief uses stress zones. We really liked this one, and a big part of that was a very reasonable price tag of $108 USD.
6. CAREWARE
Now this one might not be a fitness tracker, per se, but still in the realm of fitness technology. Careware is a patch that you put on sore muscles and it helps relieve pain and reduce inflammation. It uses blue and red light from the patch to stimulate muscles by increasing the production of nitric oxide. Nitric oxide improves blood flow in the body, and in turn will cause muscles to recover faster.
Recovery and pain relief is a multi-billion-dollar business because every year new solutions come out and most of them don't work. The problem is people don't have an option but to buy what's on the market. Careware might be a step in the right direction, by using real technology to heal as opposed to numbing the pain for short-term relief.
NOT SO FITNESS
Now that we've looked at the fitness tracker market,, let's look at some wearables that aren't in the fitness category but are great nevertheless.
7. MCLEAR
This was a product our staff really loved. Mclear is a ring that allows you to make secure payments. No need for credit cards  or your smartphone. You simply connect your debit or credit card to the ring, via their app and that's it!
You can track all your payment history on their nice-looking iOS and Android apps. Most retail locations now have machines that accept 'tap payments' instead of swiping or inserting your card. So you would to the same with the Mclear ring.
It's so simple, and that' why we're huge fans. The design of the ring is elegant and non-obtrusive, it makes a lot of sense. It might be a style choice for some, maybe you're not a ring person. But there's no skulls or demons on this one so don't be alarmed!
8. VICARDIO
When you go to a local Walmart, CVS or Watsons, you'll sometimes see one of those old bulky blood pressure monitors that you have to stick your arm in. There must be a better way! Well there is, with Vicardio. The world's first wrist-based blood pressure monitor wearable coupled with a smartphone app.
How it works: The bracelet is equipped an extremely sensitive 'sensor button' (as they call it) and when placed on the wrist, it comes in contact with your veins. When your heart pumps blood, that flow is then captured by the sensor button on the bracelet. Depending on the force of each pulse wave, you will get a unique reading that can be seen on their app. Explanation video here. It's very fascinating.
Since we're in the wearable tech space ourselves, we always wondered why no one made an easy-to-use blood pressure monitor. Because it's not exactly our space, we didn't do anything about it but we're glad Vicardio did.
9. Amazfit GTS Fitness Smartwatch
The Amazfit GTS fitness smartwatch is a budget-friendly option that still delivers on features. It has a heart rate monitor, GPS tracking and activity tracking. As well as a large, high resolution display that makes it easy to see your data at a glance. The watch also has a battery life of up to 14 days (as they claim), so you won't have to worry about charging it constantly.
10. Coros Apex Pro Premium Multisport Watch
The Coros Apex Pro Premium Multisport watch is a high-end option that's perfect for serious athletes. It has a build-in optical heart rate monitor, as  well as GPS tracking, activity tracking, and customizable training plans. The watch is water-resistant up to 100 metres so it's suitable for a wide range of activities.