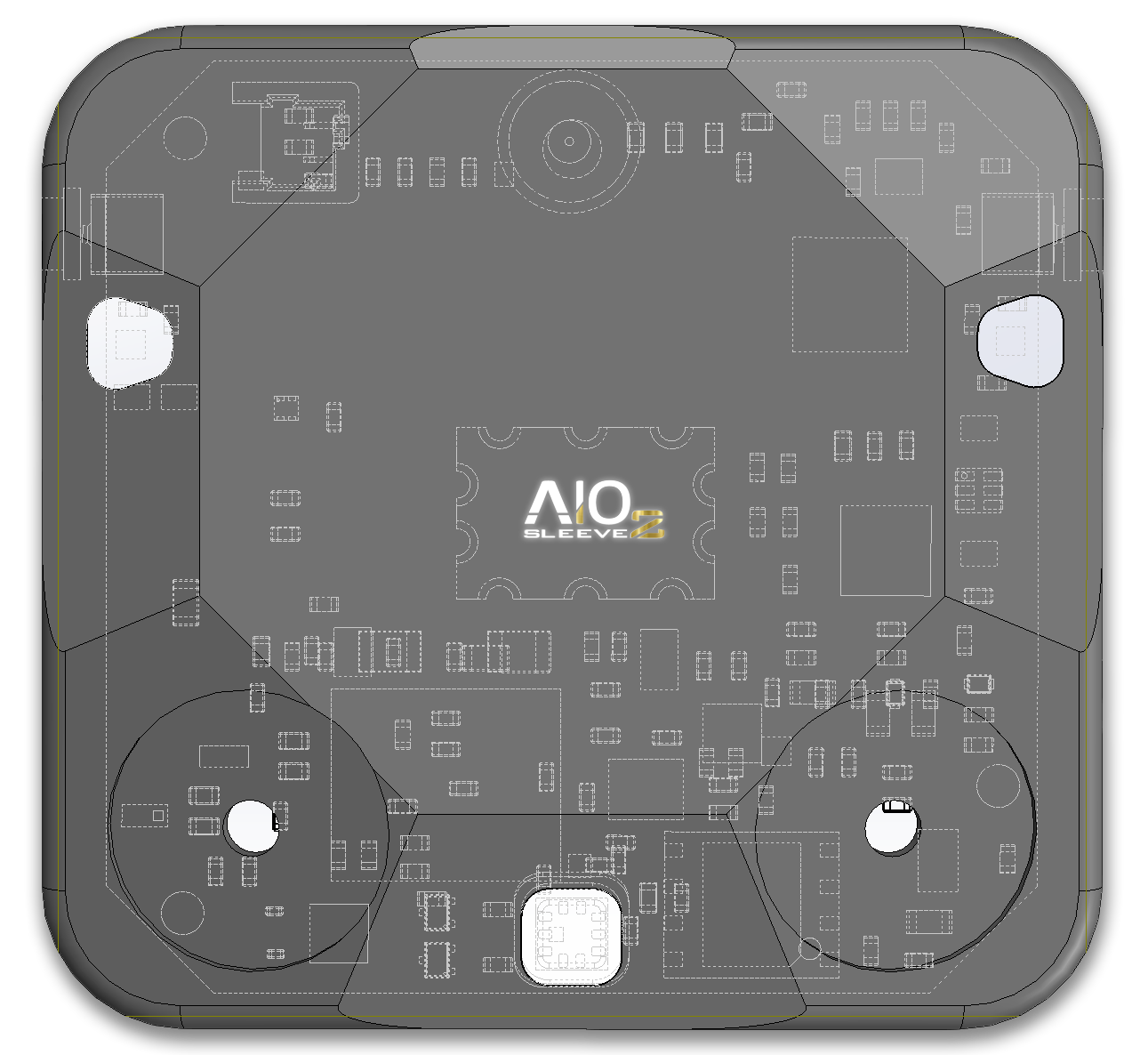 The Powerful AIO Chip
PHOTOPLETHYSMOGRAPHY
ECG / EKG
3 - AXIS ACCELEROMETER
BLE 4.0
DEVELOPMENT SDK
BATTERY
Highly integrated Photo-sensor of Green, IR,
Red LED and high sensitivity photo diode
allows to measure precise PPG and SpO2.
Sampling frequency: 31.25Hz (32ms)
Wave length 2XGreen LED: 525nm
Red LED: 660nm, Infrared LED: 940nm
High precision accelerometer allows us to
capture metabolic equivalent of task (MET)
i.e. fitness intensity
Triaxial
Low-G
Sampling frequency: 30.3Hz (33ms)
Battery capacity improved by 30% from
the first version of the AIO Sleeve.
Details below.
1-Lead, 2 electrodes allows capture of
full-time medical grade electrocardiogram.
Perfect for research and development
projects.
24-bit ADC, 300Hz (3.3msec)
Bluetooth Low Energy 4.0 provides simple
connectability with any smart phone or tablet
iOS or Android
We also provide SDK upon request.
Raw data is also available in your
preferred format

The Power of ECG
300
12
Samples Per Second.
Makes for extremely
precise measurement
Hours of battery life
when using EKG
full time!
5X
2
Higher accuracy than
any wrist-based
wearable device
Minutes for a quick
Health Score™ test
to analyze your health
Get Out, Do More
Lithium-ion polymer battery
Working Time
Activity
mode
ECG / EKG
Mode
Sleep
Analysis
Standby
Mode
8
12
16
72
Hours
Hours
Hours
Hours

True BPM
AIO Sleeve uses photoplethysmography to
capture BPM. This process uses a light
sensor on the AIO device, the process
analyzing the amount of light retracted
off flowing blood.
88
86
89
91
Compression Sleeve by it's design keeps
the sensor in place with optimal pressure
at all times, no matter what activity is
chosen. The result is improved reading
accuracy.
Check Out The App

37 mm
35 mm
Device Dimensions
8.4 mm
Weight: 0.35 oz / 11 g

Bluetooth
connect
button
Electrode #1
(connects to sleeve)
Charge Indicator
Power / Bluetooth
indicator
Reset button
(hold for 4 seconds
Optical sensor
Magnetic charger
Electrode #2
(placed against skin)
Knowing The AIO Device
*This is not a true representation of device size

Antimicrobial
Max Breathability
Conductive Trace For ECG
Beautiful Stylish Design




Choose Your Style
ON SALE!
ON SALE!
ON SALE!