It All Starts
With the Heart
(Rate Variability)
Watch Tutorial
The AIO Smart Sleeve provides
you with a window into your
overall health. It can help
optimize the way you eat,
train, recover and handle
physical & mental stress.
What is HRV?
View Products!

YOU NEED TO FEEL
IT TO BELIEVE IT.
Learn More
INCREDIBLY COMFORTABLE
COMPRESSION SLEEVE
SMALL AND EXTREMELY
POWERFUL DEVICE
+
WORLD'S BEST
WEARABLE
=


ECG AND HRV APPLICATION
PERSONALIZE YOUR DIET
HOME PATIENT MONITORING
Your True Internal
Health Status
Listen to YOUR body
and Not The "Experts"
High Stress Leads
To Poor Health
ECG And HRV are the two most important
biomarkers you can monitor. They provide
incredible insight into your heart health
and internal body function. The AIO Smart
Sleeve is the best tool to easily measure
and monitor ECG / EKG
Every individual is unique, so we all have
different reactions to particular foods.
Even foods deemed as "healthy" can
elicit a negative reaction from your body.
By measuring HRV before and after meals you
get a better sense of the right foods for you
All data capture from the AIO Smart Sleeve
is automatically transferred to the online
dashboard using Komodo Cloud Software™.
Not only can you see your personal health
data on the platform, you can also give
access to a doctor to view remotely
Learn More
Learn More
Learn More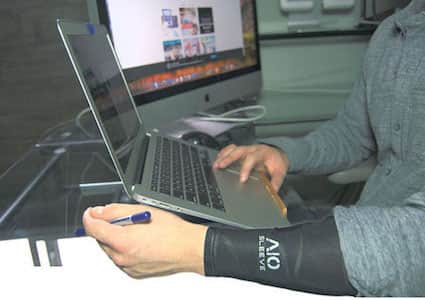 TRAIN SMARTER
TRUE SLEEP™ QUALITY
CONTROL STRESS
Over - Training
is a Silent Killer
Improve Your
Sleep Quality
High Stress Leads
To Poor Health
Recovery is crucial to your body's daily
operation, cognitive function and overall
health. Monitoring heart rate variability
before and after training will help you
avoid harm to your body and avoid
unnecessary stress
The quality of your sleep is actually determined
outside of sleeping hours. It's what you're doing
during the day and before bed. By optimizing
your daily routine and measuring HRV before
bed and when you wake up, you get a true
sense of you true sleep quality
High stress level can lead to low
productivity, lack of motivation, digestion
problems and much more. Heart Rate
variability allows you to see exactly where
your stress is coming from and with the AIO
Sleeve app, monitoring stress is easier
Learn More
Learn More
Learn More

ECG / EKG
Heart Rate
Variability
Activity Intensity
(MET)
SPO2
Heart Rate
(True BPM™)
Online Dashboard
Best in class heart rate
variability monitor, taken
from ECG / EKG
Full-time electrocardiogram
monitoring (350 samples/sec)
Metabolic Equivalent of Task
(MET) shows true intensity
of any activity
Blood oxygen saturation
level monitoring + history
High-precision BPM monitoring
due to constant contact
between sensor and skin
Record on your phone and
then view online any time
FEATURES
Learn More