If you're looking for a professionally curated list of best lululemon alternatives in 2023, you've come to the right place. Whether you're looking for an alternative that's more cost friendly, more socially responsible (doesn't use slave labor), or simply an alternative that's a small business and you want to support local, we have you covered.
Lululemon truly came from humble beginnings. If you're Canadian like our company, you have heard of their come-up. As a brand that was once billed as socially responsible and community driven has now become a mirror image of what they initially despised: Nike, Adidas, Reebok, and the list goes on. Selling overpriced garments using slave labor has been a common theme with these companies.
The truth is there are tons of local, small businesses that are making some incredible fitness and athleisure clothing. Some are even locally made and manufactured. In this list we will include best alternatives to Lululemon in several categories: direct competitors (luxury and price), cheaper alternatives to Lululemon, local alternatives and a few others. Without further ado, let's dive into the list.
DIRECT ALTERNATIVES TO LULULEMON
These are the brands with closest resemblance to Lululemon in terms of quality, brand image, price and customer demographic.
Lole
Lole was founded in 2002 with goal of upgrading women's functional attire. Fast forward 2 decades, the company has taken the world by storm. The company makes it a priority to develop and manufacture sustainable clothing that you can feel good about. While you might not feel so good about the price, the company has a rich history of producing quality clothing.
Vuori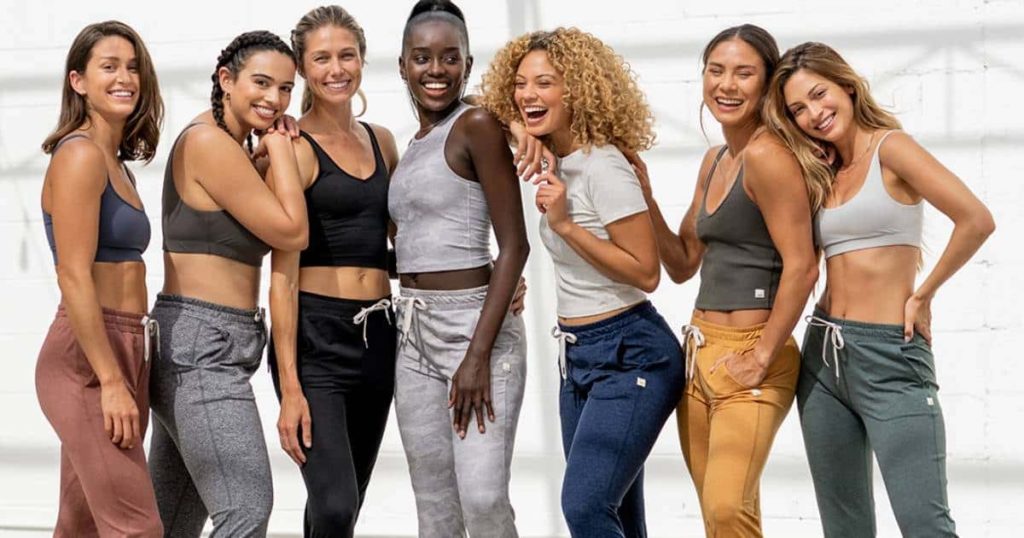 Vuori is a well-known clothing company that has tried to take the Lululemon blueprint and put its own spin on it. The company's line of clothing is very similar to that of Lulu's: leggings, joggers, workout shirts, bags, socks, etc. But Vuori also boasts about their commitment to sustainability and responsible manufacturing.
Vuori daily leggings are the top sellers and very highly regarded among reviewers. The material consists of 72% polyester and 28% elastane. Nothing out of the ordinary as this is a fairly common material breakdown. Price wise it's very similar to Lululemon. Vuori also features a descent lineup of men's clothing.
Lunya
Branded as restwear and sleepwear, Lunya has also made its way into casual wear, dresses, pants, and cardigans. The company takes pride in optimizing your sleep by using proprietary fabrics that include washable silk, Silksweats and even their own version of cashmere. Lunya is well-known in the industry for its extremely high quality garments that also come with a hefty price tag.
Pangaia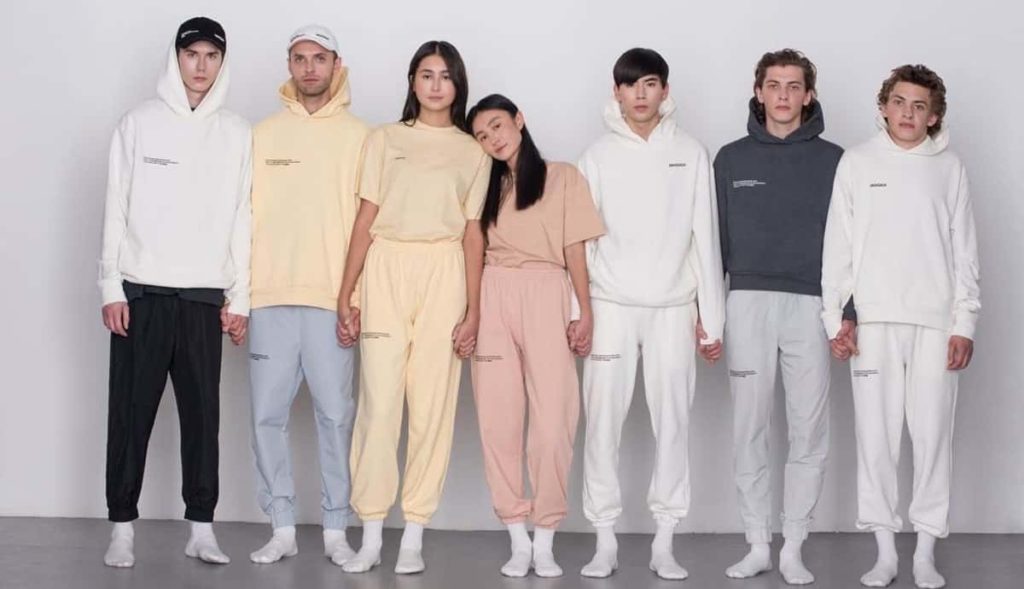 Companies who really want to compete with Nike or Lululemon need to be ahead of the curve with innovative materials and fabrics. Pangaia is all about technology and design when it comes to their large line of clothing. Pricing is on par with that of luxury brands like Gucci and Dior. The majoriy of the clothing is made in Portugal and uses proprietary materials and fabric. The names of which they have come up with.
ATHLETIFREAK
With this company, the story is almost as good as its products. Athletifreak was founded by a husband and wife team who's vision is rooted in innovation and hard work. The brand has both mens and women clothing made from original cotton blends. Clothing ranges from shirts, bottoms and hoodies, made for comfort during those gruelling gym sessions. But also a line of clothing for every day wear.
CHEAPER ALTERNATIVES TO LULULEMON
We wanted to really dig for products with this list. It's easy enough to find the Shein's and Fashionova's of the world, so we wanted to go for the obscure, but great products that deserve some shine.
Pursue Fitness
These guys and gals are based on the UK and have been around for a decade. Pursue Fitness has a large line of really amazing athletic wear products. Everything from shorts, leggings to innovative tops. They have put their own spin on an otherwise conventional piece of clothing: leggings. Very unique designs made from the best of materials will surely give Lulu a run for its money. Not to mention a much better price tag.
Smilodox
While this German company is fairly new, the product line is quite extensive for both men and women. With nearly 10,000 reviews on Trustpilot, the average review is 4 stars. Pretty good! The company's line of products includes shirts, pants, leggings, sweats and even jackets. All at fairly reasonable pricing (compared to Lululemon of course). The leggings are made of 49% polyamide, 39% polyester and 12% elastane. Making it for a slightly thicker material but will likely last you a while.
Aha Selected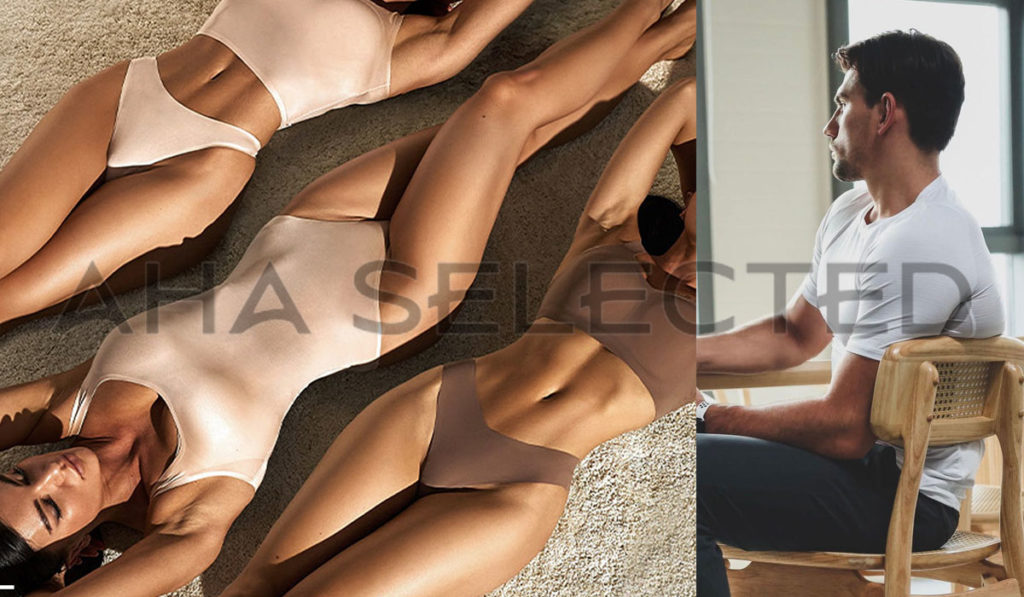 Your accountant will be really happy you shopped with this company. If you're looking for somewhat minimalistic clothing from pants, leggings, sweaters and shirts, Aha is the place to shop. Not to mention prices that far from break the bank.
True Classic Tees
This American clothing company manufactures men's clothing (not just shirts) to look good and feel even better. The t shirts are made from a combination of Ringspun cotton and polyester. Ringspun cotton goes through a different manufacturing process than standard 100% cotton found in most shirts. This variation makes the tees more durable, soft and cause less shrinkage. The company's products are highly regarded and well-reviewed, so they are definitely worth a shot.
Ten 10 Apparel
Since we've featured mostly women oriented brands previously, we'll add another mens athleisure brand to the mix. 10 Ten apparel offers a compact line of products that includes t shirts, long sleeve shirts, polos and hoodies. The make up of the clothing is what they call the "triple threat". Cotton – a great base for most clothing. Enjoy the light-weight and breathable complexion of cotton. Polyester – adds durability so you can wear the shirts for longer. And Spandex – enjoy the stretch and expandability. Not to mention the tees are priced very reasonably.
Wildflo Studio
This fairly new company based in Toronto has made an effort to create minimalist, and functional clothing while being eco conscious. This is a very tough task for a company just 2 years old. Using GOTS in many of its clothing items, Wildflo Studio is on path to become a real disruptor in the textile business and clothing market in North America.
BEST ATHLETIC FITTING T SHIRTS
VQ Fit
No matter what your style preference is in the gym, Vanquish Fitness has tons of looks to choose from. From loose to tight fitting clothing, VQFit has been serving athletes and gym communities for years. The brand has become a cult classic among gym goers and social media personalities, if that's an indicator to you. But this brand has been around for nearly a decade so they must be doing something right!
Anax
Anax is a Canadian clothing company that is offering high-quality clothing at a reasonable price. In this day and age, that is a very difficult thing to do. The company offers a variety of athletic fitting t shirts. One style is made up of 95% polyester and 5% spandex while another version is made up of 505 polyester, 32% rayon and 8% spandex. One reviewer writes "I used to spend $90 on a Lululemon t shirt until I found this brand". This just shows you how versatile some of these small businesses are and we should all support them over the big conglomerates.
MENS PANTS SIMILAR TO LULULEMON
There's no debate that they make some great men's pants. But here are some of the best alternatives to Lululemon pants
Thousand Miles All Day Pants
This company has been taking the social media world by storm these past few months. There's no question their marketing is great, but the pants are too. Made of 90% polyester and 10% spandex, the pants are soft, stretchy and great for all day use. And they don't just look like typical sweatpants. These are like leggings for guys. In the sense that you can wear them any day, anywhere and you don't have to be the guys who wears sweat pants to everything. No one will know.
Bottoms Lab
In terms of pants, this company is probably one of the best alternatives to Lululemon. And given the price, you can't go wrong. Bottoms Lab joggers are made of 100% French Terry cotton. This is a special cotton that has yarn woven into the garment. This type of cotton is used for comfortable hoodie and sweaters. Although they are named Bottoms Lab, they have a variety of tops as well.
CONCLUSION
Stay tuned as we will be adding new brands and companies to the list of best alternatives to Lululemon. We'd love to hear your thoughts and suggestions for other products!