Follow our social media 😊
As heart rate variability (HRV) becomes the go-to biomarker for health in 2021, many people are stuck wondering how exactly the HRV function works on the Apple Watch. While alternative products have done a great job of simplifying the science behind HRV, it's still a feature that's on the back burner at Apple. Yes, it's confusing, but we'll break it down for you.
If you don't know about HRV, we did an extensive write-up on it here.
First, you need to know about the two main methods of extracting heart rate variability; they are Time Domain methods and Frequency Domain methods. There are others, but these are most common and ones you might have heard about.
FREQUENCY DOMAIN HEART RATE VARIABILITY (HRV)
This is the more complex of the two, given that no consumer grade wearable device actually uses frequency domain analysis to capture heart rate variability. But what happens is for every heart beat that is captured, it is then broken up into different frequencies which mean different things.
Think of sound. You have your bass, which is low frequency and then you have the higher pitch instruments (like hi hats and whistles) that are high frequency.
For HRV, heart beats are put into two categories; high frequency (HF) and low frequency (LF). Usually this is done for some period of time (not just on heart beat). Then the ratio of HF and LF will actually tell you if you are in fight (high HRV) or flight (low HRV). It's actually very fascinating. But try explaining that to consumers.
TIME DOMAIN HEART RATE VARIABILITY (HRV)
Time domain analysis actually measures the difference (in milliseconds) beat-to-beat-to-beat. It's a method employed by almost all hrv monitors and trackers including the Apple Watch, Fitbit, AIO Smart Sleeve, Whoop, Etc.
To make things more confusing, there are actually a handful of different time domain analyses for extracting HRV. Only two of which are important and are frequently used by todays HRV trackers.
SDNN (HRV Apple Watch)
The technical term it the Standard Deviation of NN intervals. This is done by recording your heart rate over a 24 hour period (or however long you have the device on for) and taking the average distance between heart beats (in milliseconds). Then it will calculate at what rate did your HRV deviate from this average. And that's why when you open the HRV tab on your iphone, you see 20 ms, 30 ms, 50 ms and so on. It's showing you by how many milliseconds did your HRV move away from your average.
RMSSD
This stands for Root Mean Square of Successive Differences. It's the method used by the HRV wearables who's main focus is heart rate variability. It's real-time HRV, unlike the SDNN method which takes hours for an accurate recording.
RMSSD measures the time difference between each successive heart beat. Look at the graph below. Successive would mean the difference between AB and BC and so forth. This way you are getting HRV data second to second. For most wearable devices recordings should be at least 2 minutes while some recommend 5 minutes. This way you get somewhat of a larger sample size.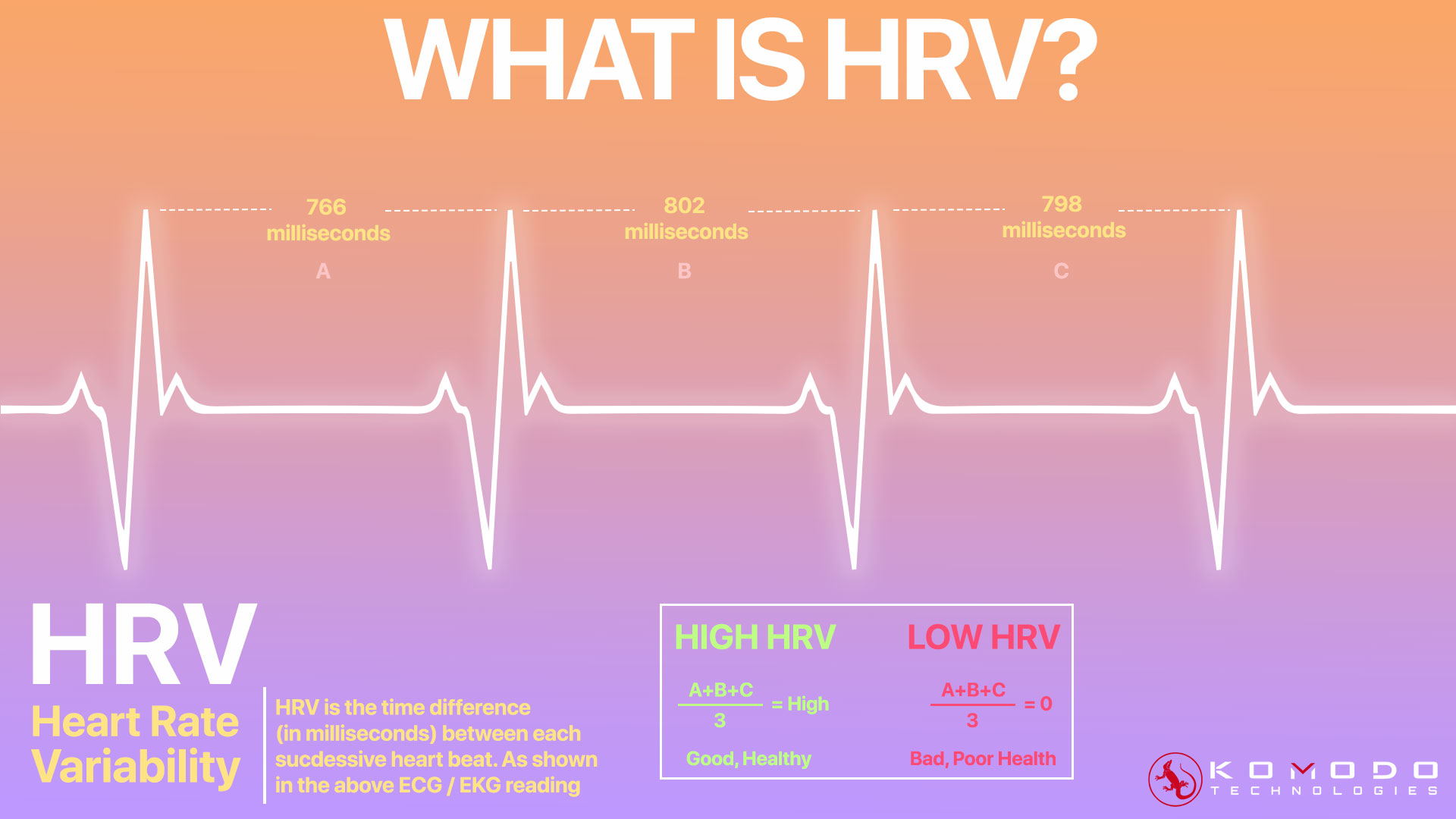 With the AIO Smart Sleeve App, you will see a running count of your HRV in real-time, and a conclusive score after the 2 minutes is up. Other apps like Whoop and Aura will do it similarly.
So Which Method is Better?
There's no reason to discuss Time Domain vs Frequency Domain since consumer wearable HRV trackers don't preform the latter. But there can be some debate between RMSSD and SDNN methods.
From an accuracy standpoint, there's not a big difference. Some argue that a larger sample size is better (that of the Apple Watch HRV) but it makes more sense to take individual measurements at different points of the day. This way you are able to track what lowered or increased your heart rate variability.
The only time accuracy matters is whether a device uses optical sensor data or an electrocardiogram (ECG / EKG) to capture HRV. Most consumer grade products will use an optical sensor. This is the standard BPM sensor found on most products and is used to determine HRV. The AIO Sleeve is the only one that actually uses an electrocardiogram to extract HRV. More on that here.