Using a portable ECG monitor in your daily routine can have great short-term and long-term benefits, and these days, it's easier than ever. Dozens of companies are innovating in this space to provide people with cost effective tools to look after their heart health. The demand for these at-home monitors has skyrocketed thanks to the continual innovation and the after effects of the pandemic. The number of individual units sold is set to double by 2030 in North America alone.
What is an ECG monitor?
An ECG monitor is a medical device that records the electrical activity of the heart. It works by detecting the electrical signals that are generated by the heart as it beats. These signals are then recorded on a graph, which is known as an ECG trace. The ECG trace shows the heart's rhythm and can indicate if there are any abnormalities in the heart's electrical activity.
ECG is the same as EKG (electrocardiogram), but the name used depends on the country. ECG is mostly used in Europe and most of the world, while EKG is primarily used in the United States. Both terms refer to the same test and device.
An ECG monitor is often used in a clinical setting, such as a doctor's office or hospital, but you can also use a portable ECG monitor for use at home. These portable monitors are becoming increasingly popular as they allow patients to monitor their heart health at home, which can help to detect potential issues early on and avoid future tragedy.
Types of ECG monitoring
There are three main types of ECG monitoring: Holter monitoring, event monitoring, and continuous monitoring.
Holter monitoring: This type of monitoring involves wearing a portable ECG monitor for a period of 24 to 48 hours. The device records the heart's electrical activity during this time and the data is then analyzed by a doctor to detect any abnormalities.
Event monitoring: With event monitoring, the device is worn for a longer period of time, usually up to a month. The patient can also activate the device when they feel symptoms, such as chest pain or palpitations. The standard process consists of a physician prescribing a portable ECG monitor to the patient. Then, the patient must use the heart monitor for 30 days and provide feedback throughout the month.
Continuous monitoring: This can also be called full-time ECG monitoring, which means exactly how it sounds. Many companies have now made it possible to have an at home ECG monitor at all times. These products come in a variety of forms and designs so finding the right one for you shouldn't be too difficult.
Accuracy of ECG monitors
ECG monitors are generally considered to be very accurate in detecting heart abnormalities. However, the accuracy of the results can be affected by a number of factors, such as the quality of the equipment, the skill of the person performing the test, and the patient's own physical condition.
It's important to note that ECG monitors can't detect all types of heart problems, and in some cases, an ECG may appear normal even if a person has a heart problem. In general, ECG monitors are considered to be very reliable tools for detecting heart abnormalities and can provide valuable information for diagnosis and treatment.
Normal ECG readings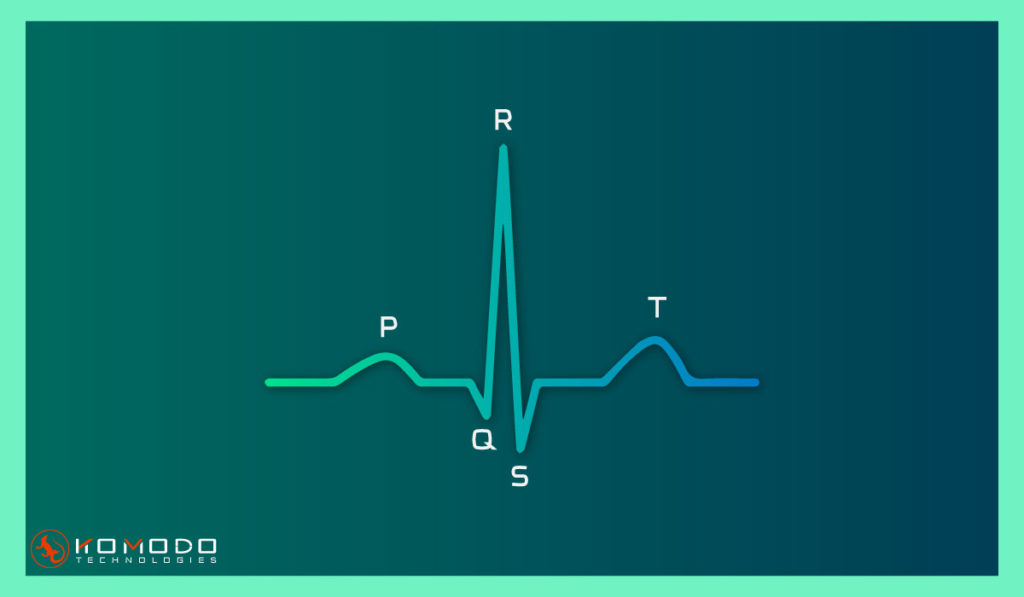 A normal ECG reading will show a steady, regular rhythm with a consistent rate, amplitude, and duration. The P wave, QRS complex, and T wave should all be of a normal shape and size. A normal heart rate for an adult at rest is between 60 and 100 beats per minute.
Reasons for getting an ECG
ECGs are commonly used to diagnose and monitor heart conditions. There are several reasons why a person may need to get an ECG, including:
Chest pain: Chest pain can be a symptom of a heart attack or other heart conditions. An ECG can help diagnose the cause of chest pain by showing if there is any damage to the heart or if the person has an abnormal heart rhythm.
Heart palpitations: Heart palpitations are feelings of a rapid, fluttering, or pounding heart. An ECG can help diagnose the cause of heart palpitations by detecting anomalies in the QRS cycle.
Other Heart attack symptoms: If a person has symptoms of a heart attack, such as chest pain, shortness of breath, or weakness, an ECG can be used to quickly diagnose a heart attack and determine the best course of treatment.
What an ECG can Detect
ECG can detect a variety of heart conditions and issues. Some examples include:
Coronary artery disease: An ECG will show if the coronary arteries, which supply blood to the heart, are narrowed or blocked.
Heart attack: Monitoring ECG will show if a person has had a heart attack or if they are at risk of having one.
Heart rhythm problems: An ECG will detect if a person has an abnormal heart rhythm, such as atrial fibrillation or ventricular tachycardia.
Heart valve problems: It can show if a person has a problem with one or more of the heart's valves, such as a leaky valve.
Enlarged heart: finally, it will show if the heart is larger than normal, which can be a sign of heart failure or other heart condition.
Portable ECG Monitor Options on the market
If you're in the market for a portable ECG monitor, there are several options available. Here are 5 portable ECG monitors currently on the market:
ZIO Heart Monitor by iRythm
While holter monitors are most common in the field of heart monitoring, the ZIO is a heart monitoring patch. This product is best used for event-based monitoring. The process of setting up involves your physician. If you have had heart issues or at risk of potential heart complications, the ZIO is intended to monitor your ECG full time for a period of 14 days. The data is automatically delivered to a care provider for further analysis. This full time monitoring provides a larger sample size for your doctor, which gives a better sense of your heart health in different scenarios.
Depending on your situation, the cost of the ZIO monitor can be reimbursed through most insurance providers. It's a great solution to measure heart activity periodically and not having to wear one 365 days a year.
AIO Sleeve by KOMODO Technologies
The AIO Smart Sleeve by KOMODO is the first smart compression sleeve with integrated sensors that provide in depth analytics into your overall health. ECG monitoring is only one of few features that you'll find with the sleeve. Other features include heart rate variability (HRV), sleep analysis, activity intensity and stress monitoring.
KOMODO's goal was to make a wearable that provides health data that's meaningful that's also reasonably priced. For many people, health technology can be expensive and the less expensive fitness tracker simply don't provide enough important biomarkers. With the AIO Sleeve you get state-of-the-art ECG tracking and other features you could benefit from.
AliveCor
AliveCor has been a pioneer in the portable ECG monitor market for some time. Their main product is called Kardia. It's a single-lead ECG monitor that can fit in your pocket. It connects to s smartphone application and records ECG in real time. Without having to go through a doctor or insurance companies makes using and setting up Kardia easy and convenient, Not to mention a price that doesn't break the bank.
Biotricity
Biotricity has several ECG products made for different users. There's Bioflux, which is a 3-channel ECG monitor that connects to your body using electrodes. The Biotres is an advanced holter monitor that has much of the same features but in a different form factor. Choosing between the two is simply a choice of preference. They also have the Bioheart, which is a more consumer-grade ECG monitor. Along with ECG, with the Bioheart you will be able to monitor your workouts and heart rate variability.
Biotricity's main focus is remote patient monitoring (RPM). They have developed a sophisticated platform and software that helps bring their line of wearable ECG monitors to life.
Qardiocore
Qardiocore is a sleek, wireless holter monitor that's capable of 1-lead ECG readings. This device also connects to a smartphone application where you can see your vitals at any time. It's farily light, only 130g and has a host of other features including respiratory rate and skin temperature readings.
Conclusion
If you're not already using a portable ECG monitor, it's never too late to start. You don't have to have something wrong with your heart health to start using it. More and more people are utilizing new technologies to make sure heart issues don't arise in the future. It's better to be safe than sorry and it's also better to have the data now to better predict your future.