Wearable enthusiasts were patiently waiting on Apple's new announcement regarding the Apple Watch Series 5. Among them, many Apple watch fans were hoping for fixes of old issues plus new features. Apple Watch has seen issues with heart rate spikes, and inaccurate / incomplete readings. Many also hoped for Apple Watch to get an HRV (heart rate variability) feature. By 2021, the feature is in fact implemented, but with nuance.
Heart rate variability is slowly becoming a gold standard and one of the most (if not THE most) important health feature today. Now we want to refrain from giving Apple suggestions anymore, since they seemed to have implemented many of the things we suggested in this article (and past ones). However, an improved HRV feature on the Apple Watch would be a game changer. Not for them and the market, but for individuals that can benefit from it.
The Apple Event
Millions of people tuned in via YouTube live stream to catch the announcement. At one point, views reached a staggering 1.8 million people including myself, prepared to steer my team in direction marked by the new Apple Watch Series 5. A product created by a team of geniuses, including 50 doctors and 40,000 researchers from around the globe
---
With all of the underlying issues, see if they were addressed in the new Apple Watch Series 7
Video: Apple Watch Series 7 Explained in 90 seconds
---
Apple Event 2020, Don't fall for It…

Touting Current Features
It wouldn't be an Apple event if they didn't toot their own horn a bit. They started off the presentation of the Apple Watch Series 5 with a long video of customer testimonials. A great video showing how previous versions of the Watch helped people to avert tragedy, in some cases. But let's dig down to features that are not exactly Apple exclusives and implemented a long time ago by other companies.
Elevated Heart Notifications
According to the company this feature notifies you if your heart rate spikes unexpectedly. It's safe to say that you will feel a sudden spike in your heart rate, you don't really need a device to tell you that.
Secondly, if it happens you will need to know why it happened. The best tool to figure out is an ECG/EKG (electrocardiogram). Yes, Apple has an EKG feature (it's the star of one of their commercials) but you can only record it for 30 seconds, and only if you are not busy doing something like driving your car. But there are companies, already, that give you full-time (and any time) ECG/EKG monitoring. A device like the AIO Smart Sleeve, allows you to simply press a button and the EKG begins recording. The data will also save automatically on the app as well as online so you can access it later.
Calls When You Fall
This one is based on an algorithmic pattern of free fall using a 3 axis accelerometer. When movement of a subject matches a particular pattern, it triggers an alert. This feature is prehistoric, simply displayed in a different format. Apple, as well as other wearable companies tend to do this a lot. The feature is not very practical given the high rate of false positives (high rate of anomalous readings that aren't attributed for)
Motivational
Most fitness trackers and smart watches nowadays come with some tool to help you get up and motivate you to be active. Apple Watch is no different. You will get 'pinged' if you are not moving for too long and it will encourage you to do so. However, Fitbit is the king in this arena. They have based an entire business on motivation and competition. Still, motivation is a powerful tool and if these products can do it, kudos!
Apple Watch Series 5
Onward to the Apple Watch series 5. It has been much anticipated and here are all of the features that were announced on Tuesday at the Steve Jobs Theater.
Always On Display
The watch that never sleeps, as the saying goes. Well it's true in this case. In prior models, if you haven't moved the watch close to your face, it will remain off; a black screen. But with the Apple Watch series 5, the watch is always on. Though it dims when you put it down at waist level or when you're working out, it's still always on. The thinking was now you don't have to make crazy motions in public every time you want the screen to turn on and see the time. More universal in more situations.
Built In Compass
Not sure how useful this is for the common folk, but what the heck. The new compass feature is based on relatively old technology called a magnetometer. It gives you orientation and direction of where you are facing. It was described as being more of a tool for developers to enhance their apps. They provided examples of a running app that would have precise directions of your runs and same thing for a kayaking/boarding app. Unlikely that many future Apple Watch owners will use this feature from the 20th century.
Health Research
Probably the most anticipated update was how Apple Health will look like with all of these new watch features. Taken into consideration the mammoth-sized health team (brains and quantity), the lack of meaningful analytical features of the watch was very disappointing. Though marketing is brilliant, there's a strong feeling that Apple seems to have lost its spark for innovation and is in the mode of "playing it safe." Partnerships with big name Institutions almost always leads to this kind of approach.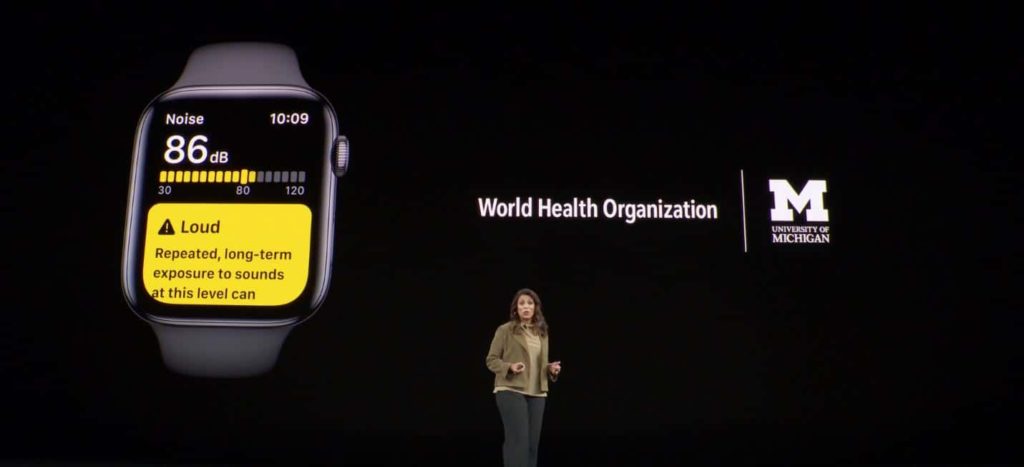 A new feature in the Apple Watch series 5 can actually detect decibel levels. So part of the Apple hearing study, they will look to monitor sound levels and see how they affect your hearing in the long run. For this, Apple is partnering with World Health Organization (WHO) and the University of Michigan.
I'm not a fan of conspiracy theories but I would call this feature a permanent listening device; Siri's little brother. For this one they partnering with the WHO and University of Michigan. Probably they forgot to mention the NSA.
Then there's the women's health study. Not much detail was provided, but the claim is that Apple will monitor menstrual cycles to potentially detect infertility and osteoporosis. This will be conducted in partnership with Harvard and the National Institute of Health (NIH).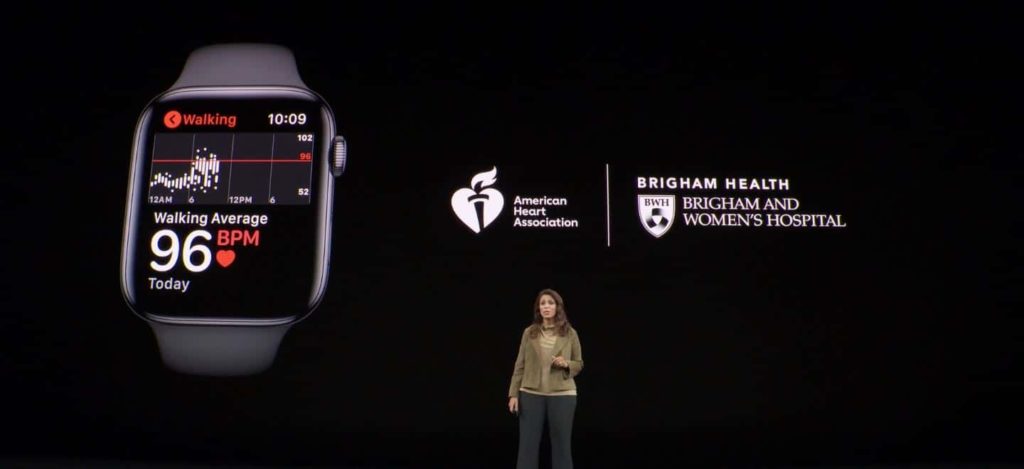 Finally, the heart and movement study will look to use metrics from the Apple Watch series 5 to help improve overall health. Done in partnership with the American Heart Association (AHA) and Brigham Health.
Needless to say, Apple was extremely vague with all of these initiatives and really made it seem like they didn't know what they were talking about. At the end they also promoted the Apple Research app and said that people can get involved in all of these studies through the app. The lack of thought put in to this part of the presentation only verified that the only reason the Apple team showed up was for the iPhone.
Design
The new Apple Watch series 5 will come in a new titanium finish, available in many different colors. There are also a variety of new bands in partnership with Nike. Also a fancier version available in partnership with Hermes (just to get a "few" more dollars from you).
Missed Opportunity
Apple is always the best when it comes to design, layout and the applications. But it would have been great to see improvements in health analytic hardware. Oddly enough, they didn't even have to create anything new, just improve a hidden feature that ALREADY EXISTS!
The simplest example is sleep analysis, based on an integrated 3 axis accelerometer. Great feature, very helpful, and can add a lot of useful information to overall health and stress reduction. I think the problem is the Watch battery life. It can't simply handle 24 hours operation. Well, too bad.
Or how about Blood oxygen saturation level? If the AIO Smart sleeve has it, I don't think it is a big problem for Apple to add this feature [updated: they did, I guess they read this article]. It is a very crucial feature, especially given the current landscape during the COVID 19 pandemic. Countries like Italy are now mandating everyone use a pulse oximeter at home in order to potentially avoid tragedy.
Another feature (perhaps the most important one) is Heart Rate Variability (HRV). You can actually see it as a function on the Apple Watch series 5, but it's confusing and doesn't provide any analysis.
HRV is quickly becoming a gold standard in health analysis. It's actually one of the best biomarkers (by the way, approved by FDA) available in the world that can give us a great picture of our overall health. HRV measures the time difference in milliseconds between each successive heartbeat. A high HRV means good health, to put it simply. More info on that here.
What's even more disappointing is how the Apple watch series 5 extracts that HRV data. There are two ways to extract this data; optical sensor, which is the heart rate sensor (which is not effective) and the second is extracting via EKG/ECG. The weird thing is, the watch has both features, but Apple chose to use the optical sensor to extract HRV data.
Recommended articles