If you're looking for the best Gymshark Alternatives (that are WAY better than Gymshark BTW) you've come to the right place. If you're sick and tired of overpriced and oversaturated goods, this list will provide some solace.
There are so many cool brands out there that aren't getting the recognition they deserve. This is our goal with this article and past articles. Take a journey around the world to find awesome and hardworking companies and try to give them the spotlight. We managed to find the best and unique Gymshark alternatives in 2023.
Make sure you read till the end for a really top secret yoga find.
1. Rawgear
If you haven't stumbled upon Rawgear yet, you're missing out big time! It's Bradley Martyn's official store, and man, the dude knows his stuff. Their Eternal Life Graphic Tee is pretty sweet. And those weightless lifting shorts? It's like they've been crafted by the gods of comfort themselves. The whole brand screams, "I'm not just here to lift; I'm here to dominate." And with their global shipping, they're making sure everyone's part of the Rawgear fam. If you're tired of the same old gym wear, Rawgear's got the spice you need.
2. BGREEN
BGREEN is not only an amazing, sustainable clothing brand, but it also embodies the true rags to riches story. Founder of BGREEN, Mike Farid, also known as "Mike X" in the poker scene on Hustler Casino Live, created the company with sustainable manufacturing in mind.
These guys are all about that eco-friendly life. Their Organic Luxury Essentials are not just comfy but also kind to Mother Earth. And the best part? Everything's made right in the USA. So, you're not just looking good; you're doing good too.
Their range? From tees to hoodies, they've got everything you need to look fly and feel great about your choices. Plus, they've been featured in some top mags, so you know they're legit. If you're after gear that's both eco-friendly and stylish, BGREEN is where you need to be.
3. 2(X)IST
Okay, so here's the lowdown on 2(X)IST. These guys have been in the game since '91, way before half these brands even existed. They've got this classic yet edgy vibe that's hard to find. Whether you're a briefs dude or more into trunks, they've got the goods. I came across a pair of their men's and women's shorts very recently and the material is unlike anything I've felt before. It was awesome! It's was like silk, but durable.
And let's chat about their Velour collection for a sec – it's the kind of gear that makes you feel like you're walking the runway, even if you're just hitting the treadmill. Plus, their commitment to quality? Unmatched. If you're after gear that looks good, feels good, and lasts, 2(X)IST is where you need to be.
4. Pursue Fitness
Have you checked out Pursue Fitness lately? Their gear is next level. I mean, those Oversized Sweats they've got? It's like they hugged a cloud and turned it into clothing. And the designs? Sleek, modern, and totally on point. Their whole vibe screams, "I'm here to crush it, but I'm gonna look damn good doing it." Plus, with worldwide shipping, they're making sure everyone gets a piece of the action. Honestly, if you're looking to step up your gym game, Pursue Fitness is where it's at.
5. Vanquish Fitness
VQ fitness has been on the come up for a while now and have established themselves as a serious fitness brand. These guys are blending streetwear vibes with gym-ready functionality, and it's a match made in heaven. Their Elevate collection is straight-up killer. I mean, that Dark Olive Zip Front Jacket? It's the kind of piece that gets you those "Hey, where'd you get that?" comments. And for the days you're feeling a bit more laid-back, their denim blue hoodie is pure comfort goals. If you're all about that blend of style and substance, Vanquish is your jam.
6. RHONE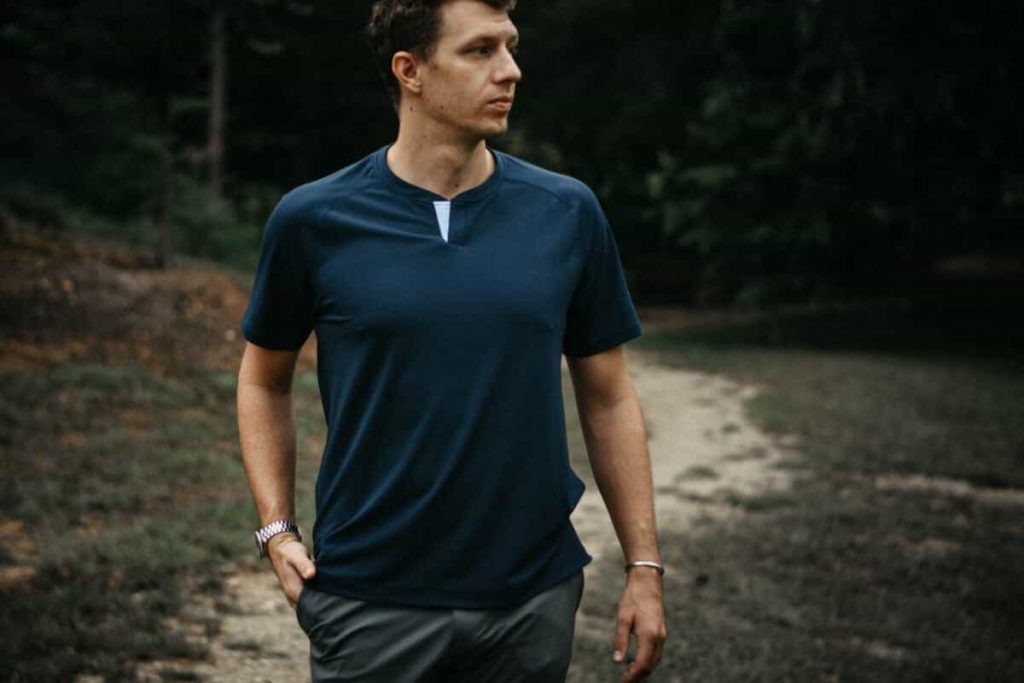 Man, Rhone is where it's at for the gents who want to look sharp while breaking a sweat. Their Gramercy Vest is the kind of gear that makes you feel like James Bond at the gym. And their mission? Inspiring progress. They're all about creating top-notch performance wear for those who are all in, whether it's at the gym or in life. Plus, their commitment to quality and luxury materials? Top-tier. If you're after gear that's both stylish and functional, Rhone's got your back.
7. AYBL
So, you've probably seen AYBL popping up on your feed, and let me tell you, the hype is real. Their Empower Seamless Leggings are the kind of pants you put on and instantly feel like you can conquer the world. And that color range? From sleek black to cocoa brown, they've got you covered. Plus, they're all about empowering you to crush your goals, whether it's at the gym or just strutting your stuff downtown. And with their worldwide shipping, they're making sure everyone's getting in on the action. If you're looking for gear that's both stylish and functional, AYBL's got the goods.
8. FABLETICS
Alright, let's chat about Fabletics. Now, I know what you're thinking, "Isn't that Kate Hudson's brand?" Yep, but they've got a killer men's line too. And yes, they are popular, which generally, we try to leave off the list. But it's one of the true cheaper alternatives to Gymshark that you'll find.
Their WFH Shirt is the real MVP. It's like they took the comfort of a tee and disguised it as a button-down. Genius, right? And their fall flannels? Perfect for those chilly morning jogs or, you know, Netflix binges. Plus, they've got this whole VIP thing where you can score some sweet deals. If you're looking to mix style with comfort, Fabletics is your go-to.
ALI EXPRESS MEN'S AND WOMEN'S GYM WEAR (Best Gymshark Alternatives)
Ok, I know what you're thinking. Cheap, China crap, it's probably bad quality… But this is far from the truth. China accounts for over half of all global textile and clothing production. Alibaba is the ultimate place of fabric discovery. So, it's important to showcase the clothing brands found on Aliexpress. Here are the best Gymshark Alternatives on Aliexpress:
9. BURNING SPORTSWEAR STORE
This store boasts nearly perfect reviews with thousands of orders fulfilled. They have a wide range of women's activewear. Everything from workout tops, leggings and every day casual wear. The material make up of their leggings is also something to consider. It's a combination of nylon and spandex (72% nylon). The great thing about that is that nylon is generally a stronger and more lasting material than spandex so you will definitely get your money's worth.
10. SheDao
SheDao has been a gold status supplier on Aliexpress for 6 years now. It's safe to say that they do good business. They have some very nice, minimalistic gym clothing for men with a great price tag. An extensive line of compression clothing for serious athletes as well as workout tops and those dual layered shorts with a phone pouch. It's safe to say, these guys have it all. Pages upon pages of possible items, you'll definitely find what you're looking for in terms of Gymshark alternatives.
11. YOGA SPORTSWEAR CUSTOMIZATION STORE
Alright, if you've made it this far, you're in for a treat. As someone whose been to China, I've seen local shops and wholesalers who sell top brands at a fraction of the price. Are they fake? Maybe. But the quality is near perfect, it's usually hard to tell.
Now I'm not going to tell you who's brand is being sold in this store, but I'm sure you can figure it out. This yoga clothing store is legit. A bit pricey for a Aliexpress store, but still cheaper than most yoga wear in North America. There are tons of positive 4- and 5-star reviews so you can rest assured the clothing has been tested and approved.
Are there any brands we left off the list? Please comment and let us know what you think.