The idea of ethical activewear and sustainable manufacturing is more prominent now in 2023 than ever before. It refers to the concept of clean production in the textile industry altogether. This includes using fair labour practices, utilizing eco-friendly materials and clean production. Companies like Lululemon, Patagonia and Nike have raked in billions of your hard-earned dollars on the back of these promises. Only to find out they have been lying for years and are actually the worst abusers of these labour and trade practices.
Whether it's Nike or Lululemon, many of these clothing brands have already been exposed for using slave labour in the past. And as of recently, Governments and organizations have been made aware of other harmful business practices conducted by these companies. In this article, we examine some of the latest research and investigations into the world of clothing manufacturing.
The Growing Demand for Ethical Activewear
The growing demand for ethical activewear is driven by conscious consumers and regulators. Organizations like The Centers for Environmental Health (and others) have been set up to ensure no foul play when it comes to clothing manufacturing. This includes looking at factory labour conditions, harmful material inspection and the manufacturing process.
Governments are also incentivizing the use of natural fibers, biodegradable materials and fair trade practices. Trade between China and the US has become a topic of contention. One that has shown to be very minimally influenced by US policy and action. Nevertheless, Western countries are doing their best to encourage sustainable means of production.
The demand for ethical activewear is on the rise, driven by conscious consumers, especially Generation Z. These consumers are willing to pay a premium for ethically produced goods. However, brands like Lululemon and Nike must align with these values or risk losing this important demographic. Social media influencers also play a significant role in shaping attitudes towards sustainable fashion among Gen Z. Big brands may benefit initially but could ultimately damage their reputation if they don't prioritize genuine sustainability efforts.
Study: Generation Z as Ethical Consumers
Study: Generation Z as Ethical Consumers
Ethical purchasing behavior: Generation Z consumers are willing to pay a premium for ethically produced goods, including activewear. Companies like Lululemon, Nike, and Adidas need to align their practices with ethical values or risk losing this important demographic.
Influence of social and environmental issues: Social media influencers have a significant impact on shaping Gen Z's attitudes towards sustainable fashion. However, there are concerns about the authenticity and transparency of influencer endorsements if brands do not truly uphold sustainability behind the scenes.
Preference for sustainable and ethical brands: Greenwashing (misleading consumers about environmental benefits) may initially benefit big brands like Nike and Lululemon in terms of sales. However, once deception is revealed, it can damage trust in the long term.
The Role of Social Media Influencers in Sustainable Fashion Consumption
Studies show that social media influencers have a significant impact on consumer choices. Particularly when it comes to sustainable fashion consumption. They have the power to promote ethical activewear brands and create awareness about sustainability in the industry. By showcasing their own personal style and values, influencers can inspire their followers to make conscious fashion choices that align with their beliefs.
Influencers play a crucial role in promoting ethical activewear brands such as Allbirds, Asquith, Beaumont Organic, and others that prioritize sustainability and use materials like bamboo for production. Through sponsored posts, collaborations, and endorsements, influencers can highlight these brands' commitment to ethical practices and encourage their followers to support them. Additionally, by sharing information about sustainable fashion practices on social media platforms like Instagram or YouTube channels focused on fashion content creation- they are able create awareness among their audience about the importance of choosing sustainable options.
Unveiling the Truth: Greenwashing and Consumer Behavior
The dark reality behind big athleisure brands like Lululemon, Nike, and Athleta is that their claims of sustainability are often misleading. They preach about ethical manufacturing practices but fail to address the use of slave and child labor in their supply chains.
While consumers may initially be drawn to these brands' greenwashing tactics, research shows that trust is eventually eroded once the deception is revealed. It's time for individuals who value ethical activewear to take a stand against these companies by supporting small businesses or demanding greater transparency from industry giants.
Research: The Impact of Greenwashing on Consumer Buying Behavior
Perception vs Reality: Greenwashing has a significant impact on consumer choices, with brands like Lululemon, Nike, and Athleta using sustainable marketing tactics to mislead consumers into believing their products are ethical. However, the reality behind these brands' manufacturing practices often involves slave labor and the use of hazardous materials. The disconnect between perception and reality can lead to a erosion of trust between consumers and these companies.
Marketing Tactics: Brands employ various strategies to deceive consumers through greenwashing. They use flashy websites and celebrity endorsements by social media influencers to create an image of sustainability. However, there is often a lack of transparency regarding the true environmental impact of their production processes. Consumers need to be aware that not all claims made by big activewear brands align with their actual practices.
The Long-Term Consequences of Greenwashing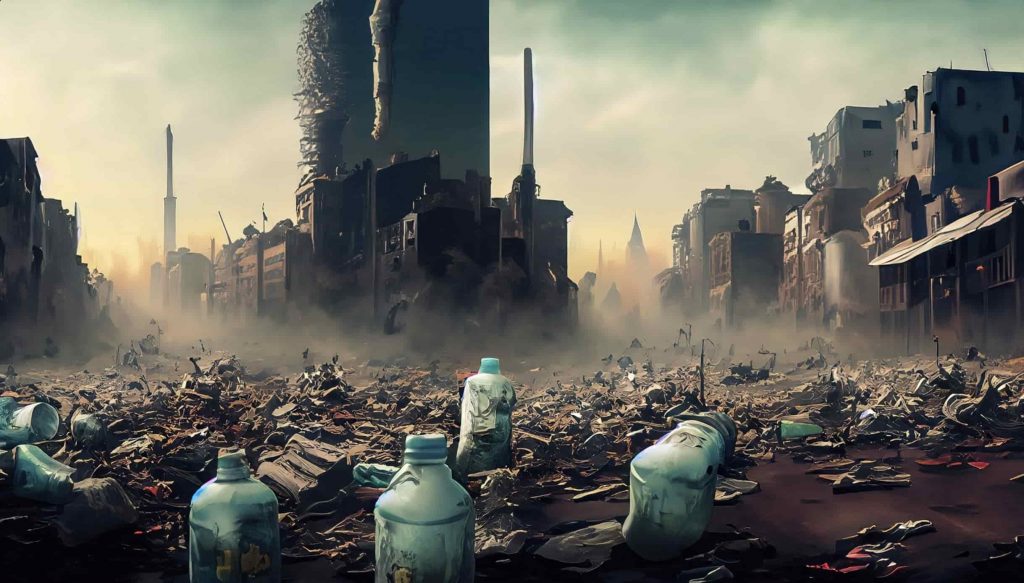 1. Environmental Impact: Unethical practices in activewear production have real and lasting effects on the environment, despite what companies like Lululemon, Nike, and Athleta may claim. From the use of hazardous materials to contributing to deforestation and water pollution, these brands are not as sustainable as they appear. It's time to hold them accountable for their actions and demand transparency in the industry.
2. Brand Reputation: Greenwashing can severely damage a company's image in the long run. While these brands may benefit from misleading consumers with false claims of sustainability initially, once exposed, it erodes trust and tarnishes their reputation. In today's age of social media activism companies cannot afford to ignore the consequences of greenwashing.
3. Sustainable Alternatives: There is one good consequence in the long run. Negligence from top brands will open the door to truly sustainable clothing alternatives. Companies like People Tree, KOMODO, and Tentree have made a conscious effort to put heart over profits. In the end, people will see this and switch. Either that, or the Nike's of the world will need to make a serious change.
Power of Brand Image on Consumer Behaviour
The power of brand image on consumer behavior is undeniable. Brands like Lululemon and Patagonia have successfully marketed themselves as ethical activewear companies, attracting consumers who prioritize sustainability.
According to research, brand image has a lot to do with a consumer's willingness to purchase. Maybe 20 years ago, consumers didn't care about social or political causes. But today, this is a key consideration when it comes to purchasing products or services.
Exposing Ethical Activewear Industry Concerns
Slave and child labor exist in the supply chains of major activewear brands like Nike and Lululemon. Despite their claims of sustainability, these companies rely on exploitative labor practices to produce their products.
It is essential for consumers to be aware of these ethical concerns in order to make informed choices about where they invest their money. By supporting small businesses or seeking out genuinely sustainable alternatives, individuals can take a stand against unethical practices within the activewear industry.
Slave and Child Labor in Nike and Lululemon Supply Chains
Exploitative working conditions and forced labor practices plague the supply chains of Nike and Lululemon, Adidas, Puma and others. Factory workers endure harsh conditions, including long hours, low wages, and unsafe environments. Furthermore, these companies source materials through forced labor, contributing to a cycle of exploitation. These practices have devastating effects on local communities and violate workers' rights, undermining the integrity of the activewear industry.
These exploitative working conditions reveal a dark reality behind their glittering façade. Workers endure grueling hours for meager pay while facing hazardous work environments that compromise their safety and well-being. Forced labor practices taint the sourcing of materials for these brands as they turn a blind eye to human rights abuses in their supply chains. This unethical behavior not only harms individuals but also perpetuates cycles of poverty and oppression within affected communities. It is imperative that consumers rise above brand loyalty to demand better treatment for those who make our clothes.
Hazardous Materials Used in Manufacturing
Toxic chemicals present in dyeing processes pose a significant risk in the manufacturing of activewear. These chemicals not only harm the environment but also have adverse effects on human health, especially for factory workers exposed to these hazardous substances. The use of such materials highlights the need for stricter regulations and ethical practices in the industry.
Manufacturing waste from activewear production contributes to environmental pollution. The disposal of waste materials, including dyes and synthetic fibers, can contaminate water sources and soil, leading to long-term ecological damage.
Taking Action
In order to make change, individuals, governments and corporations need to take action. Research has shown that there are many ways we can all shape the future of the clothing industry.
Boycotting Unethical Brands
Researching the brand's supply chain is essential in boycotting unethical brands. By delving into their manufacturing practices and sourcing of materials, we can uncover any potential violations of labor and environmental standards. Transparency in the supply chain is crucial to ensure that the products we purchase align with our ethical values.
Identifying labor and environmental standards violations is another important step towards boycotting unethical brands. Through thorough research and investigation, we can shed light on issues such as slave labor, child labor, unsafe working conditions, or the use of hazardous materials by these big-name companies. Holding them accountable for their actions will send a clear message that consumers demand ethical practices.
Spreading awareness through social media can be a powerful tool in boycott efforts against unethical brands. Sharing information about these companies' deceptive practices and exposing their true colors can create a ripple effect among consumers who are passionate about ethical activewear. Social media allows us to amplify our voices and encourage others to join us in making conscious purchasing decisions that support small businesses committed to producing ethically-made clothing.
Use of Technology in Supply Chain
In the quest for sustainable manufacturing and ethical production practices, blockchain technology emerges as a promising solution. A recent study conducted in Brazil by Victor Andrade da Silveira, Stella Regina Reis da Costa, and David Resende, titled "Blockchain Technology in Innovation Ecosystems for Sustainable Purchases through the Perception of Public Managers," sheds light on this potential. The study, which involved a survey of purchasing managers from 92 prefectures in the State of Rio de Janeiro, suggests that blockchain technology can play a pivotal role in promoting transparency and accountability in public procurement.
The beauty of blockchain lies in its ability to track the entire supply chain meticulously, enabling the verification of potential environmental and social damages. This includes the unethical use of child or slave labor, deforestation, production of counterfeit products, and the involvement of unethical agents. By providing a transparent and verifiable record of the entire supply chain, blockchain can help ensure that products are not being produced using unethical practices.
Supporting Small Businesses and Ethical Activewear Brands
Exploring Local, Independent Retailers: Discover unique and sustainable activewear options by supporting local, independent retailers. These businesses often prioritize ethical production practices and offer a diverse range of styles that cater to individual tastes and preferences.
Seeking Out Sustainable Materials and Production Practices: Take a stand for the environment by seeking out activewear brands that prioritize sustainable materials and production practices. Look for labels that use recycled fabrics, organic cotton, or innovative eco-friendly technologies to reduce their environmental footprint.
Considering Collaborative Collections with Independent Designers: Embrace creativity and support independent designers by considering collaborative collections when shopping for activewear. These limited-edition pieces not only bring fresh designs to your wardrobe but also provide an opportunity to directly support small businesses while promoting ethical fashion values