Finding a reliable fitness tracker without a screen can be tricky these days. A quick web search yields hundreds of results. Most devices, though not intentionally, seem shady. Tons of cheap, low-quality options with attractive pricing. But how do you know which are actually reliable?
The easiest part of creating a wearable is making it sync to your smartphone to easily view notifications. But if you're in search of a fitness tracker without a screen, notifications is the last of your concerns. You probably care about a REAL fitness tracker. One with highly-accurate health analytics.
The 7 Best fitness Trackers Without Screen
You should always ask yourself what you're looking for in a fitness tracker. Is it precisiong exercise tracking? Is it heart rate variability? Something else? No matter what you're looking for, these are the best fitness trackers in their respective ways.
AIO SMART SLEEVE by KOMODO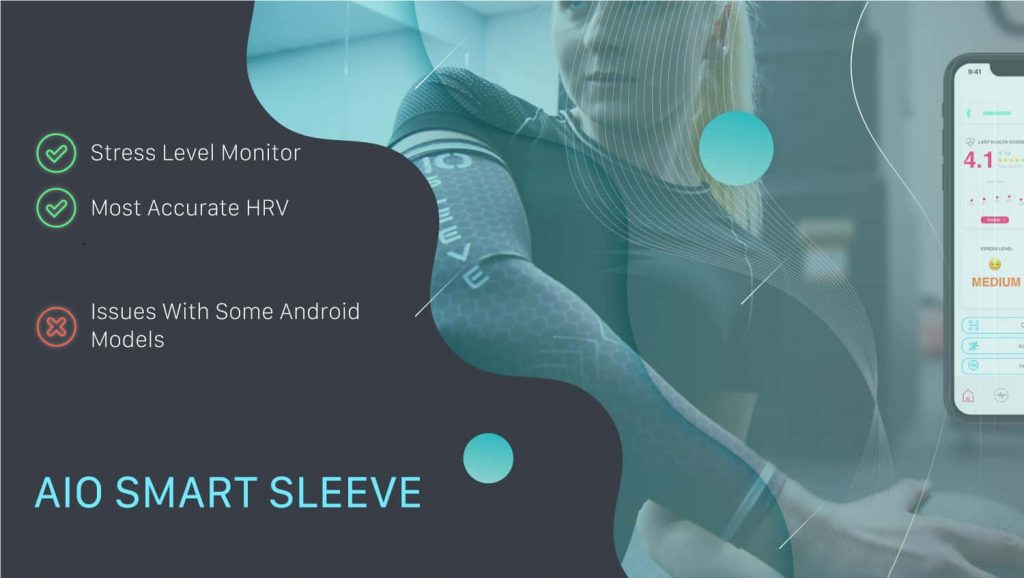 One of the most unique wearable products you will ever see is the AIO Smart Sleeve. It's the first smart compression sleeve with integrated sensors that gives you real insight into your overall health. Everything from activity tracking, to EKG, HRV and sleep analysis. This device has it all.
The science behind the sleeve can be traced back to Fitbit's legal issues. With smart watches and bracelets, the inaccuracy among devices like Fitbit and Apple Watch comes from what's called an "air gap". This air gap exists between the wrist and the sensors. It's nearly impossible to tie the watch tight enough as to keep constant contact with the wrist (which is necessary).
The compression sleeve pushes the PPG and EKG sensors close to the skin and eliminates this air gap. Constant contact means data is always being fed to the sensors without interruptions. The AIO Sleeve allows you to track activities from jogging to biking and even golf.
But where the product shines is the heart rate variability feature. It's one of the most intuitive HRV trackers on the market. The home screen has a "stress level" monitor you can easily see every time you log in. The app also allows you to track workout recovery and food sensitivities. Making it a top fitness tracker without a screen that we have today.
UPMOOD
In today's fast-paced world, understanding our emotions and how they drive our decisions is crucial. Enter Upmood, a revolutionary emotion sensing solution suite that promises to change the way we perceive our feelings. With up to 90% of human decisions being based on emotions, Upmood offers a quantifiable approach to the human experience, ensuring we're in tune with our emotional states.
There's no question that heart rate variability (HRV) is the gold standard when it comes to consumer health biometrics. And dozens of great products exist that have their own unique spin on HRV and Upmood is not different. HRV can be correlated to athletic performance, stress, and mood just to name a few. Upmood's focus is on mood tracking and optimizing your health and improving your mood.
The technology behind Upmood isn't just a gimmick. It's been validated in a comprehensive 2-year study involving 1,000 participants. Impressively, 2 out of 3 people reported the same positive emotion as detected by the Upmood Algorithm. This level of accuracy is a testament to Upmood's commitment to bridging the gap between technology and human emotion.
But don't just take our word for it. Gusang Kwon, a Neuroscience Researcher at L'Oreal, found "remarkable insight and surprising results with Upmood products." Similarly, Erica Li, a film director and psychologist-in-training, praised Upmood as a user-friendly and economical tool for enhancing her research.
WAHOO TICKR FIT
The TICKR FIT stands out with its optical heart rate technology, ensuring accurate heart rate and calorie burn data. But what truly sets it apart is its form factor. Worn on the forearm, it promises a level of comfort that's unparalleled, especially during those intense workout sessions, be it running, cycling, or a high-octane fitness class. And for those who are always on the move, the water-resistant technology ensures that a little sweat or rain won't hamper your progress.
Connectivity? TICKR FIT has got you covered. With both Bluetooth and ANT+ technology, it seamlessly pairs with various fitness apps, smartphones, and even GPS bike computers and watches. The LED lights are a nifty addition, verifying the connection at a glance.
Battery life is often a concern with wearable tech, but with TICKR FIT, you're in for a pleasant surprise. A single charge promises up to 30 hours of tracking, ensuring you're always in the know about your heart rate patterns.
WHOOP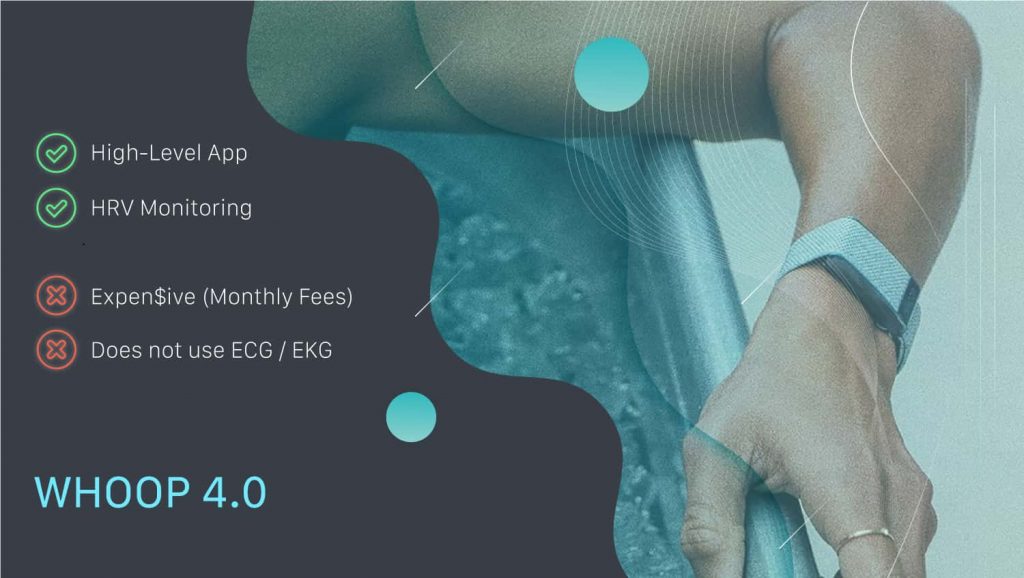 Imagine this: You've had a long day at work, followed by a vigorous evening workout. You hit the bed, hoping to wake up refreshed. But instead, you wake up feeling just as exhausted. Why? The answer lies in Heart Rate Variability (HRV), and WHOOP is here to help you decode it.
HRV is the variation in time between each heartbeat. It's the most important (and accurate) indicator of your body's readiness to perform and its stress levels. A higher HRV means that your body is well-rested and ready for physical activity, while a lower HRV suggests fatigue and stress. Think of it as the body's way of whispering its secrets to you.
WHOOP is somewhat of a pioneer in this space. They certainly weren't the first to implement HRV technology into a wearable (here's who is) but they have made a solid business of it. The WHOOP 4.0 band connect to your smartphone via Bluetooth. There's no screen but you can see all of the data on your smartphone. everything from sleep quality to recovery.
The only downside of WHOOP is it's another product with a monthly fee. Haven't we had enough of this? Apparently not. However, if you are a serious sports and health enthusiast, it might be a good investment.
CARDIOMOOD
If you're on the hunt for a wearable that offers both precision and convenience, then the CardioMood 287-1 might just be your next best friend. One of the biggest gripes with wearables is often their battery life. But with the CardioMood 287-1, you're in for a treat. This device boasts a battery life that lasts between 5-7 days, ensuring you get continuous monitoring without the constant need for a recharge.
Whether you have a slender wrist or a more robust one, the CardioMood 287-1 has got you covered. Its universal design ensures a comfortable fit for all types of users. No more fidgeting or adjusting; just wear it and forget it.
Accuracy is paramount when it comes to heart monitoring. The CardioMood 287-1 employs high-precision algorithms to give you spot-on readings. Whether it's your Heart Rate (HR), Heart Rate Variability (HRV), or even skin temperature, this device ensures you get the most accurate data.
Beyond just heart rate, the CardioMood 287-1 is equipped with multiple sensors, including PPG (Photoplethysmogram), ACC (Accelerometer), and TEMP (Temperature). This means you get a comprehensive view of your health metrics, from activity levels to sleep patterns.
The CardioMood 287-1 ensures you can access your data from any device, right from day one. And if you ever run into any hiccups, their support team is just an email away, ready to assist.
WELLUE STRAP FREE PATCH
The Wellue Strat Free Patch is unique. It's not a bracelet, it's not a chest strap; it's a patch. It comes with replaceable and removable patches that you can easily place on the chest area. The benefit here, is that not only do you get PPG, you also get EKG.
With the VisualBeat™, you get the freedom of strap-free monitoring. It's like wearing nothing, yet it's always spot-on, even during those strenuous exercises.
This isn't just another heart rate monitor. It provides continuous real-time heart rate tracking for up to 24 hours. Whether you're sprinting, cycling, or doing yoga, it's a top fitness tracker without a screen.
Whether you're team Bluetooth or team ANT+, the VisualBeat™ plays well with both. Connect it to your favorite fitness apps or even your Garmin smartwatch. And if you're not a fan of carrying your phone during workouts, no worries. The VisualBeat™ will store the data and sync it later.
ALIVECOR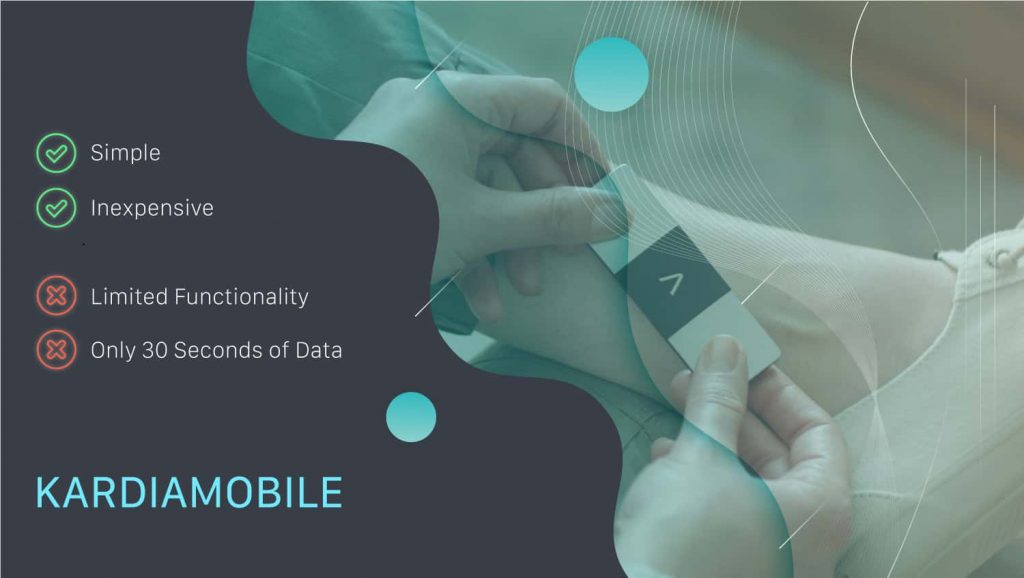 These guys are true pioneers in the portable EKG space. With their line of KardiaMobile products, Alivecor has made a complex EKG assessment accessible to a vast number of Americans. They boast an impressive 6-lead EKG with their flagship product, the KardiaMobile 6L. However, that is nearly impossible to do with just 2 existing electrodes. How that passed FDA clearance is beyond us.
Their newest EKG monitor is the size and shape of a literal credit card. These devices are compact and connect to your smartphone so you can view and send data to your care provider. So if you, like many American, worry about heart disease, this is the perfect product for peace of mind.
These devices have been tested for years, but accurate data is not clear. The fact that it's FDA cleared doesn't say much. Since in the past 5 years, the FDA has made it easier for wearable devices to receive certification. But at the price, it could be a great option for many. AliveCor rounds out our list on the best fitness tracker without a screen.