Whether you like or not, wearable health technology is here to stay. What was once a niche market with simply products that only tracked steps, has now turned into one of the largest consumer markets in history. The wearable market is expected to double by 2024. This decade, especially, the industry has seen some incredible growth. Not to mention the birth of some of the great health innovations of the century. Today, we'll be looking at the top wearable tech products for 2024 and beyond.
Wearable health is no longer a trend. For millions of passionate and knowledgeable individuals, it is now part of their lifestyle. The things you can do now at home to monitor your health are amazing. You can now get medical-level insights into your health without going to see a doctor or a specialist. However, this takes time and patients. It's like the word "diet." If you use the word 'diet', you are doomed from the start. This means it's temporary and that you will eventually revert back to your old ways. As soon as you call your meal plan a 'lifestyle' that's when you see results. Same goes for using wearable technology.
So, what do the top wearable tech companies have to offer in 2022? This is what this article will be about. We will discuss the unique approach of each individual wearable on our list, what technology is being used, who it's made for and why you should think about using it. Before we do that, it's important to go over some of the hardware and software that is common in the industry. Many of the top products use similar hardware (sensors and biomarkers) but each put their own spin on what you see visually on your smartphone or bracelet.
ACCELEROMETER
This is the birthplace, so to speak, of wearable technology. It's Bethlehem; The Mecca! Anyway… Accelerometer is essentially a movement sensor. it has been used years prior by other industries. It is measuring movement along 3 axes. It was initially used for fall detection very early on. It's the same technology that made Fitbit so popular in its early days.
Before the heart rate monitoring and display screens, Fitbit products were just simple step trackers. It's simple now, but at the time it was a revolution. Nowadays, hundreds of the top wearable companies are using the accelerometer sensor to create new ways of tracking health.
As a recent example; A new feature on the Apple watch will actually show the level of impact your feet make when they hit the ground. They've used the accelerometer to create an algorithm that will measure the velocity of how you hit the ground when running. This is important because the harder the impact, the greater effect on your joints, legs and even back. You will see many different algorithm from different wearable products.
PPG / OPTICAL SENSOR / HEART RATE
Some call it photoplethysmography (PPG), some call it an optical sensor, but for simplicity this is a heart rate sensor. This was stage 2 of the wearable tech revolution. Most products today are equipped with a PPG sensor, and again, each company has a different way of displaying that information. If you've ever owned a smart watch or bracelet, you know on the back end of the device there is a flashing red light. That's the PPG sensor.
ELECTROCARDIOGRAM AND HEART RATE VARIABILITY
This is where the health tech began to get serious. An electrocardiogram (ECG/EKG) shows you the electrical activity of your heart. It's an accurate way to asses many different heart conditions. It's extremely useful and also provides an accurate way to assess your health from the comfort of your home.
Heart rate variability (HRV) is slowly becoming the gold standard of personal health monitoring. HRV measures the time difference (in milliseconds) of you heart rate, beat-to-beat. This gives us insight into stress levels, recovery, and overall health. It's the best tool available today that provides accurate information into your stress levels, resilience and how your body responds to environmental stressors. Top HRV companies like KOMODO have made this an area of focus given the importance of HRV.
So, without further ado, here are your winners!
1. BEST VALUE FITNESS TRACKER 2022 – XIAOMI SMART BAND 7
In a previous article, we called it the best Fitbit alternative and for good reason. Xiaomi is a giant tech company in china, well known for its innovative consumer products, the Smart Band 7 being one of them.
This smart band captures the essence of the basic smart bracelet. Loaded with health features, easily compatible with most smartphones and a great sticker price. It's equipped with a high-precision 6-axis sensor, a 3-axis accelerometer and a PPG sensor.
The fact that it's the 7th iteration of the Xiaomi Band, they have made improvements and additions over the years. With over 100 preprogrammed activities, SPO2 sensor, recovery status and other great features. It's easy to use, light-weight and has a familiar look to most. Can't go wrong with this one
2. BEST MINDFULNESS WEARABLE – MUSE 2
While it might look unorthodox, the Muse 2 is the ultimate mind and body wearable. It allows you to understand the connection between the two, and make improvements mentally that lead to better health.
One sensor we didn't mention initially is the EEG (electroencephalography) sensor. It detects electrical activity in your brain to help understand potential stress triggers. The Muse 2 is packed with sensors that include a PPG and accelerometer. The product looks to guide you through your mental health journey. It's able to monitor how your brain responds to high stress vs a calm state and offers guided meditation to help improve that mind-body connection. With the price tag of $299 USD, it's a great investment.
3. BEST HRV DEVICE – AIO SMART SLEEVE
The AIO Smart Sleeve, by KOMODO Technologies is the king of HRV. Compared to other sensors like EDA and PPG, heart rate variability is far superior and no one does it better than KOMODO. It's one of the only product in the world to utilize EKG-based HRV monitoring. While most use the standard PPG sensor to extract HRV data, the AIO Sleeve uses an EKG. The sample rate of an EKG is nearly 30 times that of a PPG. Meaning more data points and higher accuracy.
Aside from the technical aspect, the compression sleeve is unique in itself. Made of a proprietary fabric, the AIO Sleeve is light-weight, breathable, feels and looks incredible. Almost everyone has some piece of compression clothing whether its shirts or tights so the transition to this wearable should be painless.
The Smart Sleeve is paired to your smartphone (apps available to iOS and Android) where you can view all of your health-related information from the Sleeve. The intuitive app has enough to keep you occupied for months, but the HRV feature is what's most impressive.
There are several 'events' you can choose from in the app. For example, morning readiness, before/after work, before/after workout, etc. this gives you an idea of your stress levels throughout the day and how it's trending. Your health is in your hands with this wearable since you can follow your stress levels throughout the day, identify why you feel a certain way internally, and make the proper adjustments going forward.
The data is quite comprehensive and as always, with HRV you must be patient. It takes time to learn about the complex ecosystem that is your body. It doesn't happen overnight. But with the AIO Sleeve, you get the most accurate and in-depth picture making it one of the top wearable tech products in 2022.
4. BEST SMART SHIRT – HEXOSKIN
While it might not be everyone's cup of tea, Hexoskin is a veteran in the wearable clothing world. The company was a pioneer in wearable clothing and EKG monitoring which inspired dozens of new wearable tech products.
Equipped with a 1-lead EKG, PPG, and sensors to measure breathing rate, Hexoskin is one of the most in-depth wearable technologies out there. It has the ability to measure VO2 max, HRV, EKG, skin temperature, SPO2 and more. It's great for athletes, those with health conditions and simply individuals who want the most information about their bodies. It's like having a doctor in your house at all times. While it's a great wearable, it comes at a steep price tag. Perhaps the only deterrent. But if you have the funds, it's definitely a must-try.
5. BEST FREE HEALTH APP – MINDSHIFT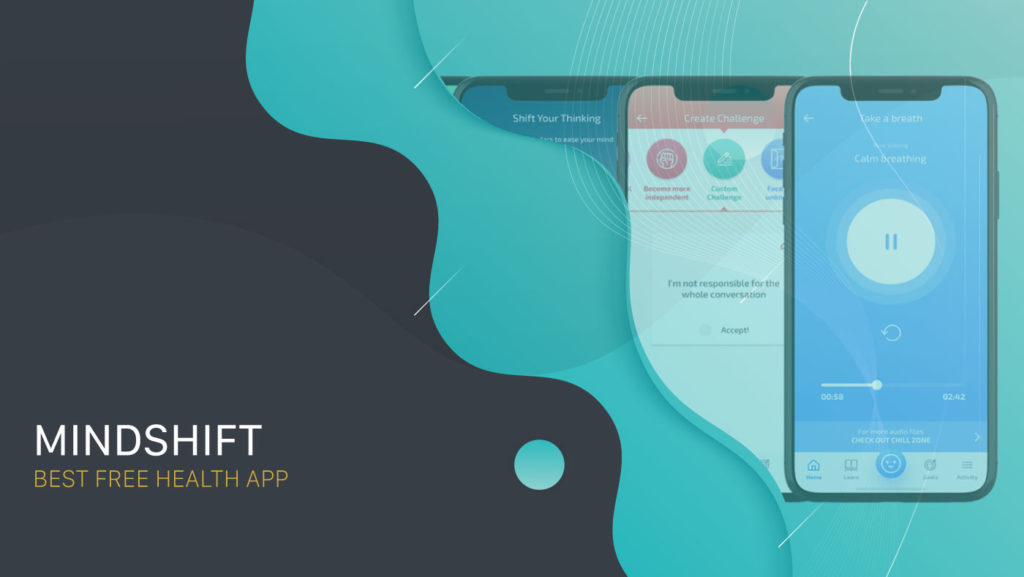 There are thousands of free health apps out there. But we've always loved showcasing apps and companies who are a little less known and deserve some recognition. And since we believe that all health journeys begin with stress, mental health and mind, Mindshift was the clear choice for the best free health app.
Every single aspect of your health starts with the brain. A majority of negative health outcomes can be traced back to the brain. Take stress for example. Stress comes in 2 forms, mental and physical. Mental stress is all about what you, as an individual, perceive as stress. When under stress your brain sends signals to the rest of the body. More oxygen is being requested, the heart beats faster, muscles tighten. It's quite the chain of events. (We did an extensive article about that, check it out here)
The MindShift app attempts to re train your brain to think more positively in high stress situations. Using on cognitive behavioural thinking (CBT) strategies, the company looks to help you handle anxiety, panic, phobias, etc. with mental exercises and lessons. It's a great app and it's free! You can't go wrong.
6. BEST NEW WEARABLE TECH 2022 – PLANTIGA
Wearables come in all shapes and sizes, but this one is something totally different. Plantiga is an insole you place in your shoe to measure statistics related to running. You simply place the insole into your shoe, connect to the app and you're ready to go.
Track your distance, analyze gait and asymmetry and your average pace. It's a bit of a niche market but the product has been used by professional athletes across North America. The fact that it was something new and different, we had to have it on the list
7. BEST WEARABLE ECG MONITOR – QARDIO
Qardio has been around for ages and the process to create QardioCore was extensive. I remember waiting years (yes, years…) for them to finally create this product since they were already collected money on pre order.
The QardioCore is a 1-lead EKG monitor. Mainly made for remote patient monitoring and tracking medication and how it's affecting your heart. No wires, no patches. Qardio wanted to create a simple home EKG monitor, which is no easy task. Looks like they've succeeded, but at a hefty price tag (I mean, for poor schmucks like myself).
8. BEST BRAIN TECH – FEELZING
The company Thync looks to improve brain health using electricity instead of chemicals. A great message. The product, Feelzing, is a neurostimulation patch that improves energy and reduces stress (according to the company)
It's a patch that you place around the neck area and it sends waves to said area. The waves are intended to increase alertness, reduce mental fog and improve resiliency in the long run. With tons of great reviews and a decent price tag of $168, it looks to be a promising product.
9. BEST WEARABLE FOR HIKING AND OUTDOORS – SUUNTO CORE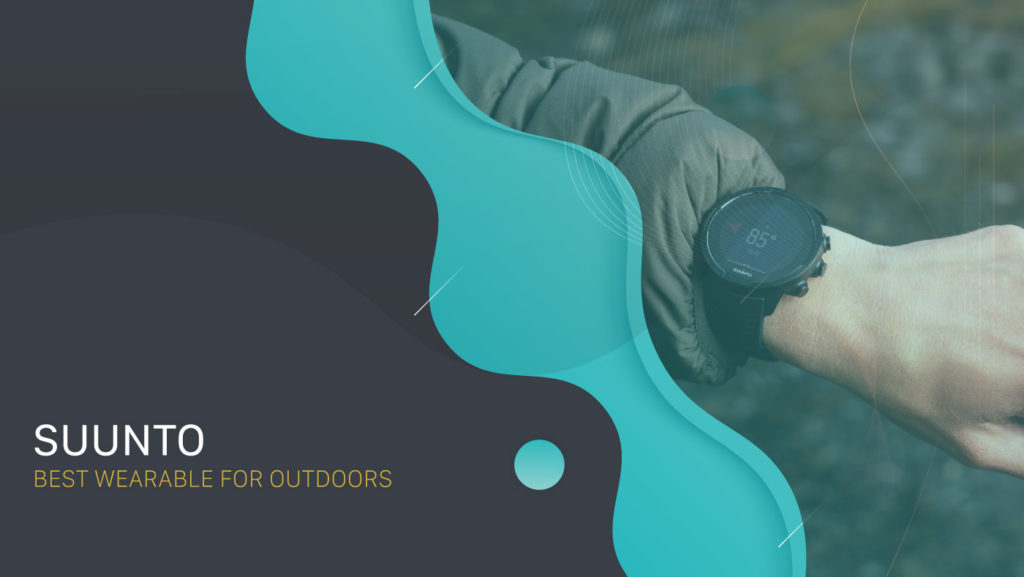 Perhaps the most popular wearable on the list, the Suunto Core watch is a main competitor or Garmin watches. The Suunto 9 is a rugged, touch-screen watch packed with features and designed for the outdoors.
Constructed from sapphire glass and stainless steel with 100 feet of water resistance, it's the ultimate wearable for the outdoorsman or woman. Over 80 sport modes, SPO2 monitoring and trip planning. It falls short on some high-end health monitoring but perfect for the adventurer. If you can stand the price, you'll be accompanied by a great watch on your many journeys with this one.
10. BEST MEDICAL WEARABLE – BIOBEAT
Finally, we have a wearable with FDA, Health Canada and many other health certifications. Biobeat brings the doctor into your living room, kitchen and maybe some other rooms in the house, but in a good way. It includes EKG and HRV monitoring, as well as continuous blood pressure, respiratory rate, stroke volume and so much more.
The device feeds data into the cloud and later stored on an online dashboard that you can view at any time. It's truly a remarkable product with tons of great medical features. It just shows how long we've come from the first wearable which was a step monitor.
11. BEST SMART RING IN 2024 – THE ULTRAHUMAN RING
Who knew that smart health rings would become a "thing"? We certainly didn't. But since they are, we needed to dive into the technical side of things and inspect the top smart rings on the market. The Ultrahuman Ring is brand new to the market and aims to be a competitor to the industry leader, Oura Ring. While it's nearly the same price, the Ultrahuman ring is almost 50% lighter than the Oura Ring. Both devices have similar sensors from PPG to accelerometers. But where the big difference is lies within custom notifications.
HRV is a big feature for the Ultrahuman ring. It gives insight into your sleep and recovery. The app has notifications based on your HRV trends throughout the day. It will tell you when 'it's enough' and you need to rest and recover. It will provide you with progress updates and your overall HRV baseline. The app will also push you on days where you are less active.
12. BEST ALL AROUND – FOURTH FRONTIER
I think we've made it pretty clear over the years. The two most important biomarkers in health wearable tech is electrocardiogram and heart rate variability. In many cases the two go hand in hand, which is necessary to reap the benefits of both biomarkers. For this reason, Fourth Frontier's wearable is the best all around wearable rounding out our list.
With this wearable you get BPM, ECG (even during workout), HRV and a whole lot more. Their app and software is extremely detailed. So if you want to accurately monitor progress or share information with your doctor, Fourth Frontier has you covered. While the price is quite steep, starting at $749, it has all of the important metrics you need in any wearable. So if you're okay to pony up the cash, this wearable is for you.
CONCLUSION
If you have had experience with any of these wearable products, we'd love to hear from you. Did we miss anything? what wearable do you use, lets us know in the comments!