Fresh 2023 Research Says:
Wearable tech is failing to reach the masses in the US. 17% of wearable device users in the United States are between 25-35, while only 3.3% are over the age of 65.
The United States seems to have the most interest in the topic of wearable technology. American scientists and researchers have published the most studies and clinical research on the topic. 34.7% of the world's total studies were published in the US.
The best wearable tech products with real-world application include AliveCor, AIO Smart Sleeve by KOMODO, WHOOP, Omron, and Wellue.
It's now 2023 and wearable technology in healthcare still isn't as prominent as it should be. There are hundreds, if not thousands, of device out on the market. Some are amazing! There are real-time EKG monitors, devices that measure food sensitivities and even stress level.
Consumers, however, are utilizing these wearable products to their advantage. They have more information about their bodies and internal health than ever before in history. So why the lagging adoption of wearable technology in healthcare? The answer? Money, bureaucracy, the medical industrial complex, and greed.
Problem with Medical Device Market
When it comes to discussing the adoption of wearable technology, you need to ask 'who has control'? That would be physicians, clinicians, hospitals, researchers and medical institutions. These are the gate keepers, so to speak. If new technology is to be introduced, thought leaders need to push for implementation of these devices in their practice. Unfortunately, the status quo is just too comfortable and profitable at this point in time.
Controlled by Massive Corporations and the FDA
The giants of the industry, coupled with stringent FDA regulations, dominate the landscape. These behemoths, with their deep pockets and extensive resources, often overshadow smaller innovators. While their presence ensures quality and reliability, it also stifles innovation. Think of it as a playground where only the big kids get the best toys, leaving the smaller ones to make do with what's left.
Huge Barriers to entry by Startups Who Might Have Better Ideas
Startups, often brimming with fresh ideas and unique perspectives, find it challenging to break into the market. The initial investment, coupled with the rigorous approval processes, can be daunting. These regulations exist to protect the corporate giants that have enjoyed the anti-competitive medical regulations in the US.
Even if startups get through all of the rigors of patents and certification, it will be years before they can achieve the economies of scale like the big guys. Meaning they don't have the capacity to produce high volumes like other medical manufacturers. This means profit margins will stagnate and inevitably, the business fails.
Inevitably It will Increase the Insurance Premiums
With the rise of high-tech devices, insurance premiums are bound to increase. These devices, while beneficial, come at a cost. And who bears this cost? The common man. It's a classic case of the rich getting richer, while the average Joe foots the bill.
Areas of Interest using Wearable Technology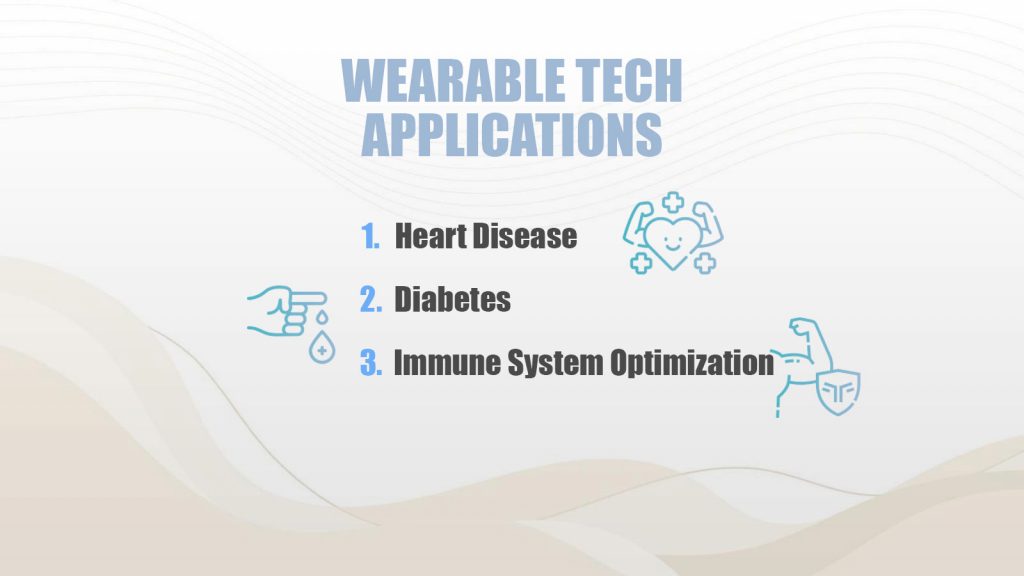 Wearable tech isn't just about counting steps or monitoring sleep. It has profound implications in serious medical conditions.
Heart Disease
Heart disease remains a leading cause of death globally. Wearable devices can now monitor EKG in real time and share this data with a health care provider as soon as the information comes in. This is invaluable. Heart rate variability has become a gold standard in consumer health. It has become a hit among health and fitness enthusiasts but yet to break through into the so-called "mainstream".
Diabetes
Companies like Dexcom have been a complete game-changer for those battling with diabetes. When it comes to wearable technology in healthcare, diabetes monitors have been an exception in terms of adoption rates. Meaning more health professionals are approving their use at home. Not to mention the infrastructure that has been set up with insurance companies. Many of these glucose monitors are included in insurance plans.
Immune System Optimization
In a post-pandemic world, immunity is the buzzword. Wearable tech offers insights into our body's defense mechanisms, helping optimize our immune response. Specifically, heart rate variability. This sole biomarker gives us insight into the intricate operation of our autonomic nervous system. When utilized properly, HRV can help individuals understand the connection between their brains and hearts.
Benefits of Wearable Technology in Healthcare
When it comes to wearable technology among consumers, the benefits are clear. More information and more control over their health. In order to improve adoption of wearable technology in healthcare, individuals need to see clear benefits. Easy implementation is also a factor. If properly implemented, wearable tech has some incredible 'pros'.
Real-Time Data – Make Quick Decisions About Care and Avoid Tragedy
Imagine you're hiking up a mountain, and suddenly, your smartwatch alerts you of an irregular heartbeat. Before you even realize there's a problem, you're informed, allowing you to take immediate action. This is the power of real-time data. It's like having a guardian angel, whispering warnings in your ear, ensuring you're always safe. The immediacy of this data can be the difference between life and death, turning potential tragedies into mere hiccups.
De-Crowding Medical Facilities
We've all been there – long waits at the doctor's office, crowded waiting rooms, and overburdened medical staff. But what if wearable tech could change that? By monitoring and managing minor health issues at home, we reduce the strain on medical facilities. It's akin to having a mini-doctor strapped to your wrist, taking care of the little things so that hospitals can focus on more pressing issues. A win-win for everyone!
The Ability to Make Data-Driven Decisions 
In today's world, data is king. And with wearable tech, the kingdom of health data is vast and varied. From tracking sleep patterns to monitoring glucose levels, we're producing a goldmine of information every second. It's like every heartbeat, every step, every breath we take is a piece of a puzzle, and with wearable tech, we can see the bigger picture. This abundance of data empowers us to make informed decisions, tailoring healthcare to individual needs. Personalized care is no longer a dream; it's a reality.
Disadvantages of Wearable Technology in Healthcare
But, as with all things, it's not all sunshine and rainbows. Wearable tech, while promising, has its shadows. Let's shed some light on these darker corners.
Privacy Concerns
In an age where data breaches are as common as morning coffee, how safe is our health data? With wearable tech collecting a plethora of personal information, the risk of this data falling into the wrong hands is real. And while companies promise top-notch security, can we ever be too careful?
Accuracy Concerns
While wearable tech offers a multitude of data, how accurate is this information? A minor discrepancy in heart rate monitoring or calorie counting might seem trivial, but when it comes to health, even the smallest error can have significant consequences. Companies like Fitbit have been sued many times over inaccurate information that led to negative health consequences. The onus is still on tech companies to ensure accuracy and reliability.
Business Interests 
The intersection of healthcare and business is a tricky one. When profit becomes the driving force, ethics often take a backseat. Companies might prioritize sales over accuracy or withhold essential features behind a paywall. It's like buying a puzzle, only to realize some pieces are missing. And while many companies operate with integrity, the few that don't cast a shadow over the entire industry.
The Role of AI in Wearable Tech
Artificial Intelligence is the unsung hero in the wearable tech saga. It's the brain behind the operations, analyzing data, predicting outcomes, and offering insights. But remember, with AI, it's not about replacing the human touch; it's about enhancing it.
Wearable Devices That Can Make a Difference:
There is already a wide array of wearable tech products being used every single day in North America and across the world. Most serious illnesses and conditionscan benefit from the use of these specialized devices.
ECG Devices
Electrocardiogram (ECG) devices have transitioned from bulky machines in hospitals to sleek wearables that fit in our pockets. They're not just about convenience; they're about real-time heart monitoring, anytime, anywhere.
Kardia Mobile
Imagine a device no bigger than a credit card, yet powerful enough to capture a medical-grade ECG in just 30 seconds. That's Kardia Mobile for you. Whether you're on a mountain trail or in a boardroom, with Kardia, you're never far from an ECG machine. It's like having a cardiologist in your pocket, always ready, always alert.
Kardia is a pioneer in the EKG device market. Reputable and FDA-approved. The only downside is the fact that it's a simple 30 second reading. The ability to monitor full-time is still being worked on. Some companies offer full-time EKG, but the issue of battery life comes into play. At 300 samples per second (a typical EKG), the battery goes quick.
Complete by OMRON
OMRON's Complete isn't just an ECG device; it's a blood pressure monitor too. It's the perfect blend of innovation and utility. With its intuitive design and user-friendly interface, Complete makes heart health monitoring a breeze. It's not just a device; it's peace of mind, wrapped in cutting-edge technology.
Wellue
Wellue combines the power of ECG with the convenience of portability. Its sleek design and easy-to-use interface make heart monitoring as simple as pressing a button. But don't let its simplicity fool you; Wellue is a powerhouse, capturing detailed ECG data that can be shared with your doctor in real-time. It's like a bridge, connecting you to your healthcare provider, no matter the distance.
Heart Rate Variability Monitors
Heart rate variability (HRV) is more than just beats per minute. It's about understanding the nuances, the slight variations that can indicate stress, fatigue, or even potential heart issues.
AIO Smart Sleeve
Komodo Technologies' AIO Smart Sleeve is not just another HRV monitor; it's a revolution. Seamlessly integrating with your daily life, the Smart Sleeve offers continuous heart monitoring, ensuring you're always in the know. Anything you think of that involves HRV, you can do with the AIO Sleeve. Everything from monitoring your food sensitivities to daily stress level readings conveniently located on the home screen. While other features like activity tracking exists, KOMODO's main focus is HRV
WHOOP
WHOOP has garnered notoriety with people like Joe Rogan as avid users. It was originally designed with the professional athlete in mind. With its continuous HRV monitoring, sleep tracking, and recovery analysis, WHOOP is the complete package. It's not just about data; it's about insights, understanding the story your heart is telling. With WHOOP, you're not just living; you're thriving.

The Future of Wearable Tech in Healthcare
AI has broken new grounds in 2023 and the application in the healthcare space is quite promising. While many think AI will take the jobs of humans, it can actually aid and supercharge human efforts. AI can help analyze billions upon billions of data sets. And in healthcare, that's huge.
Doctors and physicians can save time while still providing personalized health care advice. AI is like the perfect assistant who can work at 50X the speed. The implementation of AI in this space is simply a matter of 'when'. And that will depend on the adoption of wearable technology in the everyday lives of the "common man or woman".