---
See if the Apple Watch Series 7 got an HRV feature. SERIES 7 IN 90 SECONDS
---
In a world that's so ever changing, especially in 2020, we see an Apple event that was vastly different from it's usual spectacle. On June 22, 2020, Apple held its first keynote presentation without a live audience at their headquarters in Cupertino, California. They introduced their newest operating system, IOS 14, and Watch OS 7, which gives us some possible insight into what the Apple Watch Series 6 might look like.
We did an extensive write-up about the Apple Watch Series 5. The ECG function, heart rate variability, and much more read here.
1. Customizable watch faces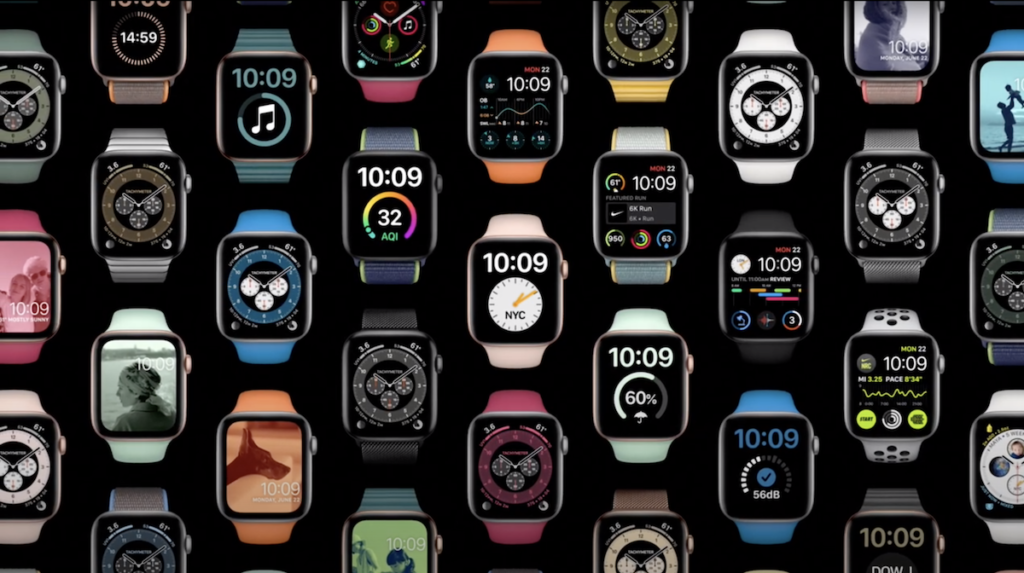 Right off the bat, I was deeply concerned about the future of the Apple Watch Series 6, and all Apple Health for that matter. The first feature they talk about is being able to customize your individual watch face with any metrics, apps, and notifications you wish. This would actually be an incredible feature if there were significant health indicators native to the Apple Watch, ones that exist in the sensor framework of the watch itself.
If you think that was a jab at Apple, they did it to themselves when Kevin Lynch, VP of technology went on to provide examples. He explained that you could add indicators on your watch and mentioned ones that are from 3rd party applications.
So you can install the Nike App or KOMODO Health app onto the watch face and use health indicators from those apps, instead of using their own. For a team of 50 in house doctors and 40,000 researchers around the globe, you would think they could come up with some proprietary indicators.
While it's great that Apple has an open platform for most of their software, I mean they changed the world with that approach, It would have been better to see their unique Apple Health hardware at work. The health team works so hard and this one seemed like a slap in the face.
2. Face Sharing
I have no idea why I'm even acknowledging this one because It's so sad. If you watched the presentation, skip ahead. If not, buckle up for some crazy new tech!
Face sharing allows users to easily install and share watch displays. Essentially you can now "easily" customize you Apple Watch's home screen if a website has an 'easy install' option and can send the watch face to friends and family via text, email, etc. Is your mind blown yet??
3. Maps
Maps was a life changer. I still don't know how we used to find places using foldable maps. For the younger audience reading this, here's what that is.
Essentially they have brought over all the functionality of the Maps App present on the iPhone, to the Apple Watch Series 6 and beyond. Estimated trip duration, traffic, bike routes, etc. That's about it. Nothing crazy but great to have that app fully functional on your wrist in the near future.
4. Fitness
Aside from changing the name on the app icon from 'Activity' to 'fitness' the new update also comes with a new activity preset; Dancing. The design and interface of the Apple Watch app comes from Garmin and Fitbit. All three apps have activity presets. You select which activity you are doing, whether it's tennis, golf or skiing, and the apps record your activity in their own unique way with respect to the selected activity. And now there's dancing.
The algorithm combines horizontal/vertical arm rotation, acceleration and heart rate to determine how many calories you are actually burning. This approach is great because most other activities use data from one sensor (usually the accelerometer). Combining different parameters does provide a better picture of intensity and calories consumed. They should have done this with many of the other activities but better late than never!
5. Sleep
"The most requested feature for Apple Watch series 6," according to Lynch. Most apps like Fitbit, Garmin and AIO Sleeve already have this feature, so I was curious to see what Apple had come up with. I was quickly disappointed.
Right away, they stated that Apple is taking a more "holistic approach" to sleep, so in other words, no data involved (I mean minimal). And that was exactly the case. The watch is attempting to help users establish a bed-time routine. It does so by setting reminders, eliminating distractions on your phone, adjusts the night-time screen with a calming light, and subtle alarms that won't startle you.
They only made brief mention of actual sleep analysis, which usually derives from movement and heart rate. It's still unclear if that will be in the plans for the Apple Watch series 6.
6. WE SAVED THE BEST FOR LAST
If Face Sharing wasn't enough, this feature will surely blow your pants off! drum roll 🥁… Hand Washing Detection.
The watch can detect when you are washing your hands, and when it does, a timer starts on the watch. It indicates how long you should be washing you hands for. Very helpful. It's a 20 second timer and if you stop early, the watch will tell you to keep washing. Apple's pseudo response to the COVID_19 epidemic. And that does it for all of the new watch features.
Apple Event Updates (September 16, 2020)
SPO2 (blood oxygen saturation) monitoring
This was perhaps the biggest announcement regarding the Apple Watch series 6. The company has finally added an SPO2 sensor to their smartwatch. It's a good feature to have but there are already dozens of products that have SPO2 monitoring capabilities. However, the App user interface and experience is superior to most products so it's going to look clean and beautiful. As with all other App products.
As of 2021, Apple does in fact have an SPO2 function. It looks like a favourite among many Apple Watch users at this point in time
Apple Watch SE
Great news for those who want an Apple Watch but don't like the heavy price tag, Apple Watch SE is a great alternative. It has most of the same features, however doesn't include electrocardiogram (ECG) or SpO2 monitoring either. So if you don't care about the health features, go with this one.
Apple Fitness plus
Apple focused a lot on their service solutions during this event. They did so by adding a new one, Apple Fitness Plus. For a monthly fee of $10 a month, you get a catalogue of training and exercise videos on demand and on all devices. The Apple Watch will sync to any video playing device (iPhone, iPad, Apple TV) and you will see your fitness stats in real time on that screen.
Final Thoughts
So has the life of the Apple Watch come and gone? It's difficult to say, but nothing in this presentation points to future confidence. Apple has revamped their entire Apple Health staff ahead of the series 5 release and the results were underwhelming. In the past two Apple Watch releases, much of the focus was on collaborative efforts. Last time it was universities and institutes and this time it's other apps. With such heavy competition in this space, even a giant like Apple might not have the innovative capacity to compete.
They still have not put any focus on the holly grail, the gold standard of health biometry: Heart Rate Variability (HRV). Many startups have already rushed to the scene and are battling to create the best HRV monitor on the market. It's truly the most powerful biomarker out there, and is the most accurate overall health depiction technology on the planet. (more on HRV here)
Tough to say if this will be the last one, but even if it isn't, it will surely feel that way as the innovation of this particular product lags behind the incredible legacy of their computers and smartphones.
Recommended articles